Talented songstress takes aim at today's mental health issues
'Thando' has a message in her music
Cory Alexander Haywood OW Contributor | 10/19/2018, midnight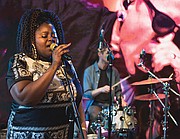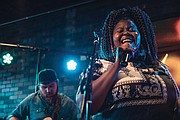 There's a rapidly growing epidemic of poor mental health among today's youth.
It's a global phenomenon with the potential to get much worse unless physicians and health enthusiasts take larger steps toward identifying lasting solutions.
Across the United States, there's been a tremendous upswing of mass killings in public schools, and the culprits are often sufferers of mental decay. The same applies to youth who share their emotional woes on social media, showcasing their anguish for millions to witness firsthand.
In extreme cases, more than a few of these adolescent boys and girls have taken their own lives as others around the world watched in horror on their cell phones and laptops.
Making matters worse, there's a youth-led subculture within the genre of hip hop that glorifies the use of mind-altering drugs as a coping mechanism for deep anxiety and mental illness.
The aforementioned is contributing to what can be most accurately described as a "lost generation," characterized by self-mutilation, fatal violence, and a surging dependency on toxic substances that rivals the 1980's crack epidemic.
As the mental health crisis worsens - highlighted by a flourishing heroin outbreak in middle america - there's a desperate need for influential voices to intervene with messages aimed to promote safe and effective methods of treating poor mental health.
Fortunately, there's a new, young songstress on the rise whose massive talent pales in comparison to the courage she's shown her fans by sharing her personal accounts of crippling anxiety and self-doubt. 
Zimbabwean born and Melbourne based singer-songwriter, Thandolwethu Emily Nomvula Sikwila (Thando), has been gracing stages around Australia with her electric presence and powerhouse vocals.
Heralded as a commanding performer, her ability to tell a story takes her audience on a journey of loving oneself and reflection. The songstress grew up feasting on the musical offerings of Ladysmith Black Mambazo, QUEEN and TLC. Along the way, she found Jill Scott and crafted her genre bending sound with an electric live set.
Her 2016 debut EP "Digital Love Letters" paved the road to a slew of festival appearances such as BIGSOUND (2016), Strawberry Fields, Woodford Folk Festival and NYE on The Hill.
With her 2018 breakthrough single "Numb," Thando has since gone onto open for soul crooner Leon Bridges, R&B master Maxwell, and collaborated with Australian hip hop greats, REMI and Sampa the Great.
The multi-dimensional performer is forging forward to solidify her status as Australia's newest first lady of R&B.
"In my most recent single 'Happy,' it's the first time that I've actually addressed any sort of mental health issues because as I've gotten older I've become less apologetic about being able to own every part of myself," explains the 25-year-old dynamo. "I've started doing a lot of self discovery and a lot of that personal growth has required me to examine my flaws objectively."
Despite being able to confidently perform in front of giant crowds, Thando shyly conceded that she grapples with deep-rooted anxiety when she's alone or in the company of her acquaintances.