Jesse Smith launches historic campaign for mayor of Palmdale
Says city is in dire need of change
Merdies Hayes Editor In Chief | 10/12/2018, midnight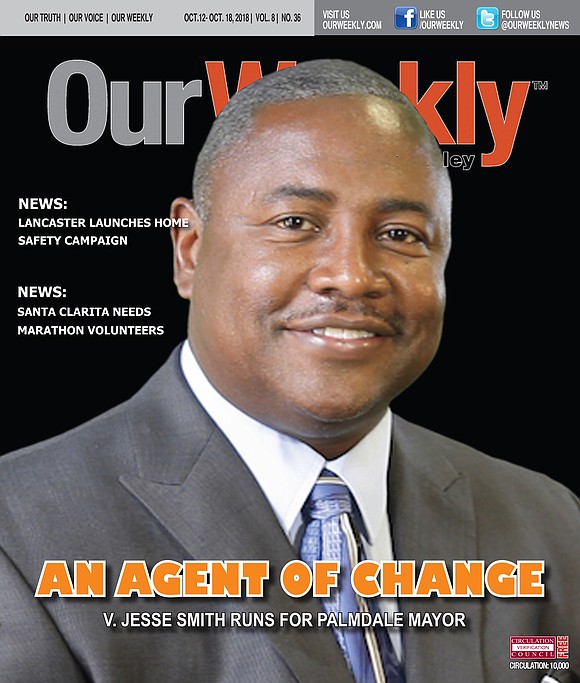 Rev. V. Jesse Smith has been surveying the political landscape in Palmdale for the past five years and determined this summer that a change is in order. He's running for mayor, looking to unseat embattled incumbent Jim Ledford to lead the Antelope Valley city toward a much more prosperous and dynamic future.
"It's time for a change in Palmdale after 26 years of the same style of GOP leadership," said Smith who is hoping that the predicted "Blue Wave" on Nov. 6 will help foster victory in an historically conservative portion of Los Angeles County. "We need sustainable jobs here. I'm talking about good jobs in the range of $80,000 to $90,000 per year to allow families to thrive. We need real leadership in Palmdale—the kind of leadership that lends itself toward integrity and accountability. Sadly, that's not what we've witnessed for the past two decades."
Transforming downtown Palmdale
If elected, Smith said his first order of business is to work with the city council to transform Palmdale Boulevard into a more inviting destination point, somewhat similar to The BLVD in neighboring Lancaster. More importantly, he explained, is a plan to energize the youth in Palmdale by increasing job training—possibly to assist in the Palmdale Boulevard transformation—but mostly to have them learn a trade that can carry them into the middle class once they reach adulthood.
"We have far too many vacant buildings in town," Smith explained, "and there is great need for a youth center where our young people can receive good job training and learn about the wealth of career opportunities available to them. I often refer to an old saying my grandmother would use: 'a people without a vision shall perish.' It is equally true that a city without a vision will perish if someone doesn't step forward with real plans to create a better life for the entire community."
Smith for the past 10 years has worked with both public and private entities to address the growing homeless population not only in his home town, but throughout much of the county. He points to the lack of rent regulation and a misdirection of available resources in Palmdale as contributors to the homeless population that is increasing each month.
Need for more affordable housing
"The rent is increasing too fast, and city hall appears to be ambivalent to the fact that working families are finding it more difficult each year to make ends meet," Smith said. "If we can find money for an animal shelter—and that is certainly a noble endeavor—why can't we allocate funds for low-income housing and transitional housing for homeless persons? This is an untenable situation that current leadership is not addressing and something needs to be done about it now."
The many vacant land parcels in Palmdale, Smith explained, could be used for so-called "tiny homes" that are gaining in popularity across the nation and in cities around the world.
"We probably have more available land here than most cities our size, and it's going to waste," Smith said. "Palmdale has great citizens, great opportunities available and great potential, but we appear to be stuck in a rut. There's no vision among our leadership and my campaign is about the future of this city and how each of us can take advantage of the numerous opportunities we have for growth."