McCarthy secures new funding for military base education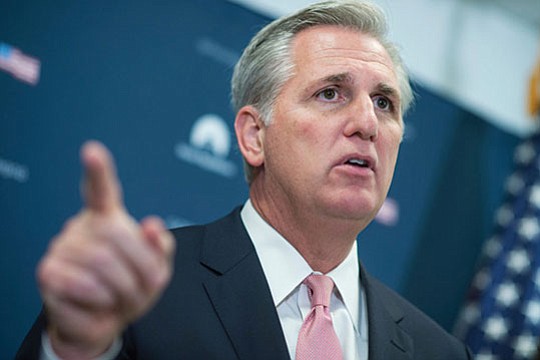 House Majority Leader Kevin McCarthy (CA-23) released the following statement on President Trump's signing of the Fiscal Year 2019 Department of Defense and Labor, Health and Human Services, and Education Appropriations Act and Continuing Appropriations Act (H.R. 6157), which includes important funding advocated by Rep. McCarthy for facility improvements at public schools, such as Richmond Elementary School in the Sierra Sands Unified School District on the Naval Air Weapons Station China Lake:
"All children deserve a quality education, and this is especially true for the children of those who work to defend our nation on military installations across America. By including more funding to improve schools on military installations, we send a strong message to parents that their children will have the resources and facilities to receive a world-class education.
"I would like to thank Sierra Sands Superintendent Ernie Bell for his leadership and the staff at Richmond Elementary for their amazing work teaching future generations, especially those with special needs. Richmond Elementary is well-positioned to receive this funding, and I look forward to continuing to work with the Sierra Sands and the Ridgecrest community so that these improvements become a reality."
The following community leaders issued statements on this provision:
"We are excited about this new opportunity to improve schools in our local community through the efforts of Congressman Kevin McCarthy and his team and their understanding of the critical need to improve schools on military installations. We are grateful for the recognition of the need to improve facilities for children, especially children of military families who continue to faithfully serve our country. Our military installation schools were built in the late 1940-1950's and the infrastructure is beginning to fail."
           —Ernie Bell, Sierra Sands Unified School District superintendent
"I believe our district is blessed beyond measure with receiving this grant to modernize Richmond Elementary School. After receiving the previous grants for Murray Middle School and Burroughs High School, I'm excited for this opportunity. I am especially grateful for the support of Congressman McCarthy and his efforts to secure funding for the project."
           —Amy Castillo-Covert, Sierra Sands School Board president
"This will be a great project to ensure all of our military kids have the best facilities to meet their educational needs. I look forward to using the lessons learned from our last DoD project to make sure this one runs more efficiently. We are looking forward to once again combining our teams to modernize facilities and update technology for the children of Sierra Sands and the entire community."
           —Tim Johnson, Sierra Sands School Board member
"Given the unique history of our community, it is extremely important that we update our great schools from their original World War II-era construction when all were located on the base at China Lake. This provision will provide needed funds to modernize Richmond Elementary School as was accomplished for Burroughs High School and Murray Middle School. This helps secure a solid quality of life and educational experience for our military and civilian community family, and most importantly, all of our children. We thank Congressman McCarthy for his strong support in making this a reality."
          —Dave Janiec, executive director of the China Lake Alliance