Black Democrat running for Senate faces Confederate flag bearing Republican opponent
Carol Ozemhoya | OW Contributor | 10/2/2018, 11 a.m.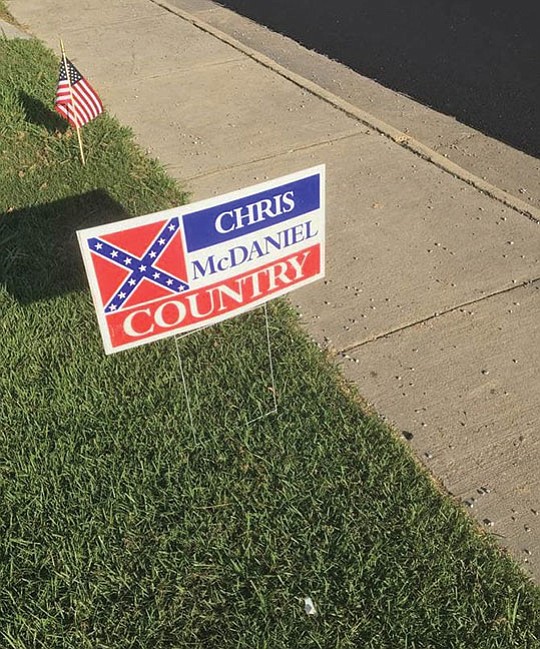 Since the election of Donald Trump as President of the United States, racism has reared its ugly head and shown itself outright in public. One blatant case happening right now during this crucial election year is in Mississippi, where a Republican candidate for Senate is using a Confederate flag on his campaign material. According to the Washington Post, for the past five months, U.S. Senate candidate Mike Espy has tried to remind Mississippians how he has served them in the past: a son of the Delta with three terms in the U.S. House who spent time as Bill Clinton's agriculture secretary. But even Espy's most ardent supporters worry that when many voters go to the polls on Nov. 6, what Espy has done will matter much less than what he is: a Black man running for one of the highest elected offices in a state with a Confederate emblem on its flag. One of his opponents is Republican Chris McDaniel, a conservative fond of provocative statements whose yard signs boast the "stainless banner" — the second flag of the Confederate States of America. The state's appointed Sen. Cindy Hyde-Smith, a Republican, is the other candidate who will be on the special-election ballot; she took over from Thad Cochran, who resigned in ill health in April. The winner will fill the remaining two years of Cochran's term; if no candidate wins a majority, the race heads to a Nov. 27 runoff. Espy, 64, whose family has deep roots in Mississippi, must draw large numbers of Black and Democratic voters to the polls. But his biggest challenge will be persuading a large enough swath of others, including white moderates, to ignore the two main Republicans on the ballot and vote for a Democrat who happens to be Black. "Mississippi politics is Black and white," said Joe Thomas Jr., the Democratic county chair from Yazoo County, which includes Espy's hometown, Yazoo City. "Nobody will come out and say that, but everybody knows it," said Thomas, who is African American. "We're 50 years removed from the civil rights movement, but it's still Mississippi." Has the South suddenly morphed into a post-racial utopia? Some politicians and their supporters have used rhetoric about Confederate statues and symbols, the not-so-distant memory of a white supremacist march in Charlottesville last year and loaded language to stir up deep-seated divisions and mobilize specific voters. In Mississippi, where Espy is seeking to become the first Black senator from the state since shortly after the Civil War, the difficulty facing him is underscored by the unbroken line of white, male faces that have led the state for the past century and a half. And it is exemplified by McDaniel's tactics. McDaniel is an ardent supporter of the Confederate flag and recently polled his Twitter followers on whether "in light of all the political correctness and leftist hysteria," history should consider Robert E. Lee a hero or a villain. (The final tally: 91 percent said villain; 9 percent said hero.) During a September appearance on MSNBC's "Morning Joe," McDaniel was asked what he would say to black voters who are skeptical of him. "I'm going to ask them after 100 years, after 100 years of relying on big government to save you, where are you today?" McDaniel said. "After 100 years of begging for federal government scraps, where are you today?" The comment drew boos from the live crowd at Ole Miss.