Holiday festivities scheduled soon at Palmdale Playhouse
See St. Nick beginning Nov. 27
Merdies Hayes Editor In Chief | 11/22/2018, midnight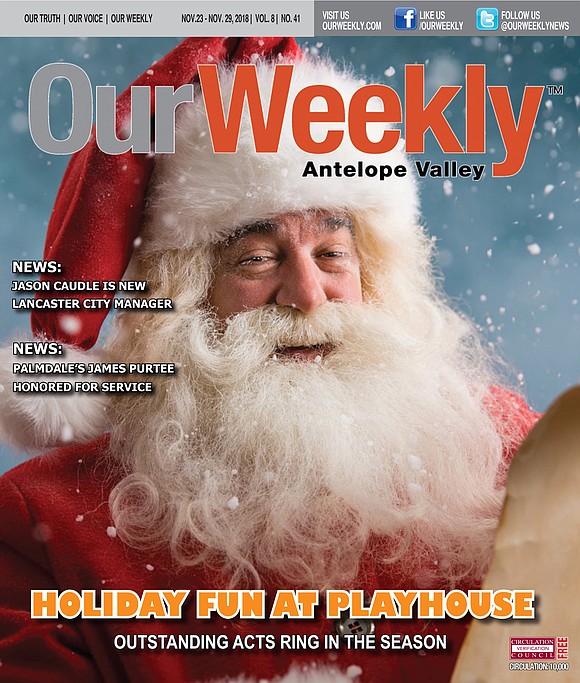 Backtrack is an award-winning, five-person vocal group based in New York City that explores the power of the human voice through unique vocal arrangements, tight harmonies and world-class beatboxing. Their repertoire includes covers of past and present pop music, original compositions and unexpected genres such as classical and electronic music. 
Backtrack has performed at notable venues such as Carnegie Hall, BB&T Pavilion and Beacon Theater, as well as making numerous television appearances including PopTV,  Scary Mommy's "Lullaby League" hosted by "Parks and Recreation" star Jim O'Heir, Steve Harvey's daytime show, "STEVE!," and Broadway's "Kinky Boots." They have also had over 10 million video views on YouTube.
The 2018 Holiday Extravaganza concludes on a musical note, beginning with the West Coast Classical Adagio String Orchestra, Prelude Strings Orchestra and Jazz Improvisation presentation of a "Holiday Celebration" on Thursday, Dec. 13 at 7:30 p.m.  This joyous family-friendly program will be filled with holiday music favorites with a jazzy Christmas sound. Tickets are $10 for adults, and $7 for seniors and children 12 and under.
Next on tap, the West Coast Classical Flute Choir, Wind Ensemble, Encore Strings Orchestra and Chamber orchestra present "Making Spirits Bright" on Friday, Dec. 14 at 7:30 p.m. This concert of familiar holiday tunes will delight you with "Winter Wonderland," "I'll be Home for Christmas," "Frosty the Snowman" and "Rudolph, the Red-Nose Reindeer." Also, a unique offering for the season, "First Suite in Eb," by British composer Gustav Holst, is a lyrical melody reminiscent of British folk music. Tickets are $15 for adults, and $10 for seniors and children 12 and under.
Wrapping things up is "Sounds of the Holidays" on Saturday, Dec. 15 at 7:30 pm. West Coast Classical Concert and Symphonic Orchestras will present a concert full of holiday spirit and favorite holiday classics. Featured pieces include Brahams' "Symphony No. 2," Beethoven's pastoral "Symphony No. 6," "Nabucco" by Italian composer Giuseppe Verdi, and Tchaikovsky's "Canzonetta" featuring Perseus Tong as violin soloist. Tickets are $15 for adults, and $10 for seniors and children 12 and under.
Tickets for all Palmdale Playhouse events may be purchased online at www.PalmdalePlayhouse.com, or at the Box Office beginning two hours before each show, 38334 10th St. East. For more information, call 661/267-5684.