Can racism have impact on Black health?
K. Barrett Bilali Special from Miami Times | 11/15/2018, midnight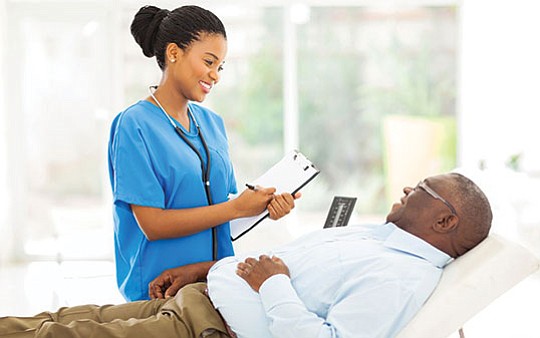 "We should not be able to tell life expectancy by ZIP code," said Henderson. "That should not be the case."
Henderson said America's history of racism continues to have an impact on the health of Black and poor urban communities.
"There is an argument that Black people are still suffering from the trauma of slavery today," said Henderson. "We have never reconciled the effects of slavery on people's mental health."
Henderson said that emotional and physical trauma for more than 400 years affect the well-being and outlook of Blacks every day. He said that day-to-day urban life, gentrification and uncertainty of the future causes stress, anxiety, depression and mental disorders, some of which never get treated.
"The system of medicine in general was started on a racist premise," said Henderson, who attended Meharry Medical College in Nashville, Tenn., one of the three historically Black medical schools in the country. Morehouse in Atlanta, Ga. and Howard in Washington, D.C. have the other historically Black medical schools.
Marion Sims, who has long been considered the "father of modern gynecology," performed experiments on slave women to perfect the procedure of sewing up a woman after childbirth, said Henderson.
"If a woman had a baby naturally, he would constantly cut the women open in order to perfect the surgery," said Henderson. Researchers have found that Sims even did unnecessary procedures on these women without anesthesia.
Henderson also points to the Tuskegee Study wherein 400 Black men infected with Syphilis thought they were being treated for the sexually transmitted disease when in reality, they were only being given placebos in a U.S. government-funded project.
"We knew the effect of Syphilis for hundreds of years. And we already had a cure and they let these men pass it on to their wives and they passed it on to their children," Henderson said. "Finally, it was the Associated Press who revealed this disaster, not doctors."
Henderson says that the effects of racist history impact the urban setting of most American cities today.
"Most of these neighborhoods are built on faulty land," said Henderson. He said they were formed on landfills and chemical dumps. Over the past few decades, the federal government has funded multi-million dollar clean-up projects of contaminated soil due to lead and toxic waste, sometimes called brownfields.
Henderson gave as an example a neighborhood he knows in his hometown of Philadelphia, Pa. which once had a significant number of lead battery factories.
"A lot of people from the neighborhood got lead poisoning," said Henderson. "And it is not fair. And there has been no effort to undo things like that."
Henderson also knows of many cases where Black women were brought in to have their appendix removed and found later that their uterus was removed as well.
Health care disparities include the fact that Black women are more likely to die in childbirth, said Henderson, who is an active member of Dream Defenders since 2014. The organization seeks to expose government policies, which lead to health care disparities while advocating for the poor.
"If you are Black and poor people, you have a two or three times greater chance of having your leg amputated as a result of diabetes complications," said Henderson.
Henderson said that Blacks experience higher incidents of asthma, hypertension and high cholesterol as well.
Henderson said the onus is on physicians to check their bias at the door before going in to see a patient.
"The reality is that because physicians have bias, they treat their patients differently," said Henderson. "Until we wrestle with this implicit bias, until we recognize this bias, then we are never going to get rid of our part in health care disparities."