Can racism have impact on Black health?
K. Barrett Bilali Special from Miami Times | 11/15/2018, midnight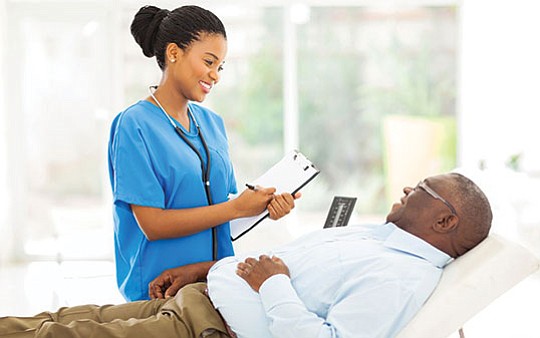 Racism in the health care system continues to confound but a few researchers are taking a historic look and holistic approach to addressing racism's effect on Black and poor communities.
One researcher is using his foundation-funded fellowships to dive into the barriers to good health in the Black community, namely Overtown, Fla. While another joined an organization that looks for ways to keep historically racist practices out of today's health care system.
"Look at the health disparities in our communities," said Daniel Gibson, regional vice president of the Allegheny Franciscan Ministries, a nonprofit Catholic organization, which works with partners to support life skills, training and economic development in urban neighborhoods.
"Life expectancy of a resident of Overtown is 16 years less than a resident in Brickell, [Florida]" said Gibson. "And they are less than a mile away from each other." He said the average life expectancy in Brickell is 79, while Overtown residents die on average at 63 years of age.
Gibson participates in a three-year fellowship program, which addresses equity, diversity and inclusion in the health care industry. He is one of 40 leaders nationwide participating in the Robert Wood Johnson Foundation program called Leadership for Better Health. The foundation seeks to build a "Culture of Health" and draws participants from the medical professions, social scientists, urban planners, and others to develop leaders who will strive to make American communities healthier.
Gibson's work in Overtown was the reason he was chosen to participate in this expansive study of how health is impacted by a number of social and economic factors.
His organization has been working and coordinating efforts to improve the lives of Overtown residents and has allocated $2.7 million for its Common Good Initiative to assist in community and human development programs.
"Our goal is to make Overtown a safe and healthy place to live," said Gibson.
Gibson said that many youth and families who are living in urban corridors experience a high rate of poverty.
He said these environments lead to cases of depression, drug addiction and social malaise.
"There is so much trauma," said Gibson. "There is a toxic stress that happens when we are living in under-resourced, impoverished communities."
Gibson said they are looking at ways to address housing issues and educating people about quality of life, food, diet and work. They are also helping businesses to develop in Overtown and looking at the experience of the Black entrepreneur.
"Health does not have to be a pill; it does not have to be a doctor," said Gibson.
The Common Good Initiative takes a holistic approach to curing the urban blight. Gibson believes that by addressing quality of life, the health of those affected by racism will improve.
"I will stop short of calling it a racist system, but you can't deny the fact that one's race and one's address has an impact on your health, your life expectancy and your life experience in this world," Gibson said.
Dr. Armen Henderson, an internist working at the University of Miami Hospital, agrees that Blacks have suffered trauma, which has affected urban communities economically, socially and the overall health of its residents. But he sees a more historic and systemic source to the problem.