Gunman kills 12 people at Thousand Oaks bar
Ventura County Sheriff's sergeant is killed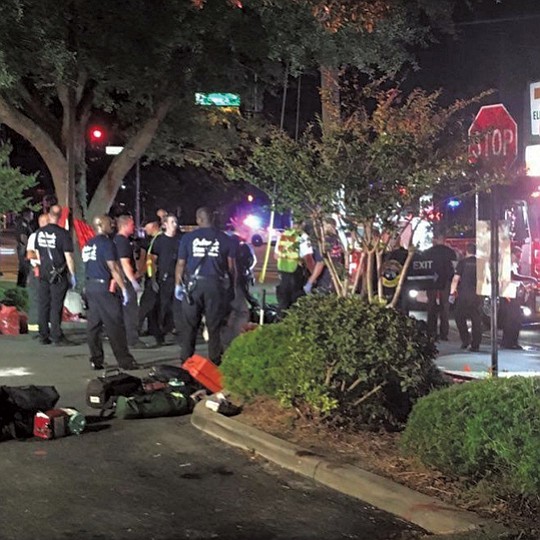 Authorities on Thursday identified the alleged gunman who opened fire in the Borderline Bar and Grill in Thousand Oaks as university students—including from Pepperdine and Cal Lutheran universities and Moorpark College—dined and danced minutes before the attack that left 13 people dead, including the suspect and a Ventura County sheriff's sergeant, and at least 23 persons wounded.
Ventura County Sheriff Geoff Dean identified the alleged shooter as Ian David Long, 28, who lived in the area, and he said Long was armed with a single Glock handgun that had an "extended magazine'' that would allow it to hold more than the standard number of 10 bullets that a magazine would hold.
Long, a U.S. Marine Corps veteran, is believed to have killed himself, Dean said, adding that a motive for the crime was not known. Law enforcement officials from several agencies, including the FBI, were going through the house in the Ventura County community of Newbury Park, where Long lived with his mother.
Long had been visited by the Ventura County Sheriff's Office's mental health team, CBS2 reported. Neighbors told ABC7 Long was a veteran who suffered from post-traumatic stress disorder. A machine-gunner, he served in the Marine Corps from 2008 to 2011, including a tour in Afghanistan.
Pepperdine officials said several students from the university were in the bar, and they're working to identify and provide those students support, according to a statement from the Malibu-based university. On Thursday, Pepperdine student Alaina Housley was identified as one of the persons killed. Classes at the school were scheduled to resume on Thursday. Classes at Cal Lutheran were canceled. By coincidence, students in the Cal Lutheran drama department were scheduled Thursday evening to perform a play, "ColumbineUS," that focused on mass shootings.
Los Angeles Police Department Chief Michel Moore, in a television news interview Thursday morning, said he spoke with Dean in the aftermath of the shooting.
"I spoke last night in the early morning hours with the sheriff, a tremendous man, a person who had great composure, whose men and women responded immediately, as did the CHP, and fire, and other first responders to really render aid and to do everything possible to stop this horrific attack,'' Moore said.
"I congratulate the Ventura Sheriff's (department), the FBI, the ATF, the joint efforts,'' Moore said. "They are doing everything possible to understand the nature of this gunman's actions and what would motivate a person to do such a horrific level of violence.''
Los Angeles Mayor Eric Garcetti, in a Tweet, said: "Three off-duty @LAPDHQ officers were present at the shooting in #ThousandOaks but are thankfully uninjured. They assisted in evacuation & treatment on-scene. City flags will be at half-mast today in honor of victims, including @VENTURASHERIFF
Sgt. Ron Helus who died a hero.''
Los Angeles Fire Department Chief Ralph Terrazas, in a Tweet, said: "Your @LAFD sends condolences to @VENTURASHERIFF & family & friends who lost loved ones in last night's tragedy. We stand ready to assist in any way necessary.''