In the weeds
Celebrities get behind marijuana business
Carol Ozemhoya OW Contributor | 11/8/2018, midnight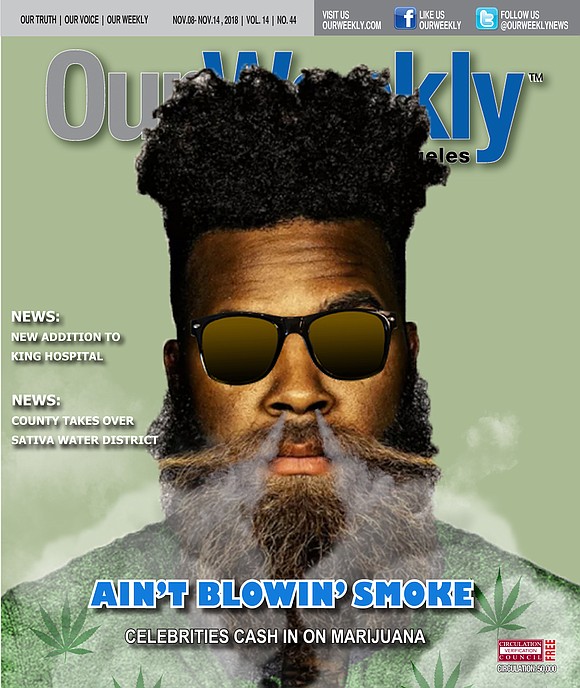 (A quick note about Williams; he's not just a former decorated soldier turned talk show host. He has an engineering degree from the U.S. Naval academy, as well as degrees in Russian and cryptology. He's worked in high tech businesses on medical devices and bio foods. In addition, he was a special duty intelligence officer at the National Security Agency for nine years. The point is… he's not just another celebrity cashing in on the marijuana craze.)
The Marley Naturals
On the other tip, some are creating a line of products that go beyond pleasure. The estate of Bob Marley, which includes his widow Rita and his 11 kids, have already been established as major players in the rapidly growing industry. The Marley Naturals company features branded marijuana, as well as pipes and body care products. Says Troy Dayton, CEO of the Arcview Group, an investment and market research company for cannabis: "One of the biggest challenges cannabis has is a certain narrow stereotype associated with it. When a celebrity who doesn't fit the stereotype [of a pot smoker] gets into promoting cannabis, it expands the conceptual footprint that cannabis has in the minds of current and potential consumers."
Dayton is referring to celebrities such as Whoopi Goldberg, Montel Williams and Melissa Etheridge who are more focused on the medical benefits of weed. 
Last year, Our Weekly told its readers about Mike Tyson and his move to secure a place in California's weed production. The former boxer bought property in California City, about 50 miles outside of Los Angeles, for his Tyson Ranch. The property is being used to grow marijuana commercially.
And KISS front man Gene Simmons, although proclaiming that he does not drink or smoke pot, has reportedly invested in Canada's Invictus and works as the cannabis company's spokesperson. Simmons told Westwood last year that the firm's beliefs mirror his own and altered his views toward the value of marijuana.
Method Man and Red Man, who had a hit record with "How High," developed Blaze Now, an app that enables users to locate dispensaries in the area they are in. The app is free, supported by dispensaries that want to connect with potential customers. 
Big names, big business
Indeed, big names are getting in on the big business of legal weed. George Jage, CEO of Dope magazine, a marijuana industry publication, told Variety last month, "The future of cannabis is going to be about brands." And what's better branding than featuring a name that cannabis consumers already know and trust on your label?
Some of the names already involved with marijuana products other than the ones already mentioned go well beyond African Americans, including Willie Nelson, Melissa Etheridge and Trailer Park Boys. More celebrities already in the field include Master P, Wiz Khalifa, Ghostface Killah, NBA star Cliff Robinson, former NFL player Ricky Williams and Cypress Hill's B Real, who recently opened a store with marijuana products in Sylmar, a neighborhood in the San Fernando Valley.
"The advantage of having a celebrity cannabis brand, especially like Snoop Dogg's, is the immediate recognition of our product from a wide variety of demographics, including international tourists, consumers looking for unique and interesting gifts," says Tiffany Chin, co-founder of Leafs by Snoop, which sells a variety of flower, edibles and concentrates in the U.S. and Canada. "That's why I believe we'll see more participation from mainstream celebrities and brands as the industry grows."