In the weeds
Celebrities get behind marijuana business
Carol Ozemhoya OW Contributor | 11/8/2018, midnight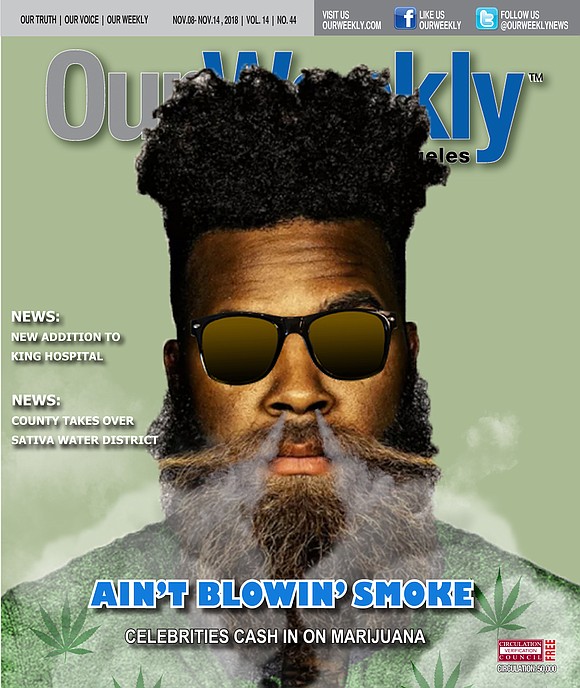 Over the last few decades, liquor – once prohibited by federal law – took on new life as hip hop celebrities began to drive sales by featuring brands in their music videos. With it came celebrities actually creating their own brands as well, such as P. Diddy and his vodka line.
And now, not far behind is marijuana. Although it is still on the federal law books as prohibited, states across the country have legalized it. Following the footsteps of liquor, it is now becoming a product of celebrities.
Big names, such as Whoopi Goldberg, Snoop Dogg, The Game, Montel Williams and Wiz Khalifa, have created their own brand name marijuana-based products, and the public is lighting it up at the projected (2020) tune of $24 billion. Some estimates go even higher. The burgeoning marijuana industry is also being credited with creating new jobs as growers spring up; brands are being developed and dispensaries are being created.
$10 billion in sales
Sales related to marijuana products reached $10 billion in 2017. And polls find more than 60 percent of the U.S. population supports legalization, reports Variety. Crunching the numbers, here are some headlines that are telling the story across the country: "Cannabis to add a million jobs, $130 billion tax revenue by 2025" in Business Insider.  "Michigan Senate Fiscal Agency estimates marijuana could generate more than $260M in new tax revenue" … Michigan Radio. "Nevada Collects $69.8 Million in Marijuana Tax revenue in First Year" as reported by KTVN News.
That's just the tip of the iceberg, as Forbes recently reported. Of course at the top of the list from Forbes is California, with a reported $2.75 billion in cannabis sales. And leading the charge… celebrities and athletes. Indeed, celebrities are jumping on the "marijuana brand wagon," reports CNN Money.  Tommy Chong was interviewed about his Chong's Choice, a marijuana brand that is available in six states, including California, Washington, Arizona, Colorado, Oregon and Nevada. Chong says developing a weed product was a natural fit. "I'm probably the most recognizable pothead in the world," he told CNN in April.
'Legalization has opened doors'
"Legalization has opened the doors to all the celebrity branding," says Steve Bloom, former editor of High Times who now operates a web site called Celebstoner. "It's not surprising that all the most likely celebrities are jumping aboard."
State governments have realized the revenue potential of allowing growers and buyers to thrive in an open environment. Recreational marijuana is legal in nine states and the District of Columbia, and medical marijuana is legal in 30 states, according to CNN Money. While undoubtedly for many it's about pleasure, for others it's medical. 
Montel Williams, who has a staunch military background, found himself in an unexpected predicament when he was diagnosed with multiple sclerosis. The 22-year military vet was in pain and battling depression that left him suicidal. After a few years of dealing with the issues associated with the disease, a doctor quietly recommended Williams look into medical marijuana. He did, and he says the relief was immediate, as he told the Californian in 2017. Williams decided he wanted the same type of products he uses available to others. So he opened Bud and Bloom, a dispensary in Santa Ana, California. The dispensary is just the beginning for Williams, who is also working to develop products for medical use through his LenitivLabs.