Domestic terrorism ravages nation as racial/ethnic killings continue
More blame Trump hateful rhetoric
Merdies Hayes Editor In Chief | 11/1/2018, midnight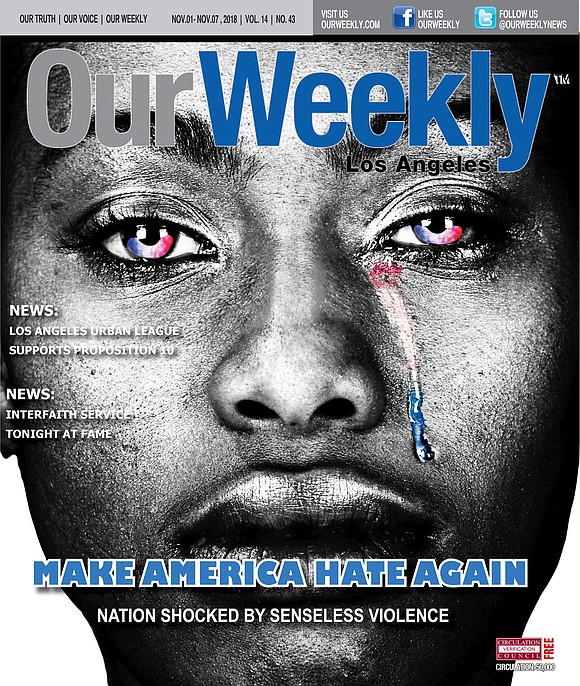 Conspiracy theories have become more common in American political discourse. Some political scientists believe that Trump won the Republican nomination two years ago in part by bringing "conspiracy-minded" Republicans to the voting booth. And although he has disavowed one of of his trademark conspiracies—the lie that Barack Obama was born in Kenya—he continues to cling to others such as false claims that he saw on television thousands of New Jersey Muslims celebrating the Sept. 11 terrorists attacks, and that millions of undocumented immigrants voted for his opponent Hillary Clinton.
"Whatever he does, there are followers who model their behavior on his," said Charlie Sykes, a conservative author who has since broken with the GOP over Trump. "In a country of 350 million people, there are going to be more than a few unbalanced individuals who will take him both literally and seriously."
An early example of Trump's behavior pattern toward racial and/or ethnic violence was in August 2017 when White supremacists and neo-Nazis marched in Charlottsville, Va. during a rally denouncing statues and other symbols of the Confederacy. Trump vacillated between words of unity and then statements condemning both the racists and the majority peaceful counter-protesters equally.
Blaming the "fake news"
Last week, Trump tweeted his response to the pipe bomb mailings, again echoing his familiar attacks on news outlets: "A very big part of the Anger we see today in our society is caused by the purposely false and inaccurate reporting of the Mainstream Media that I refer to as Fake News. It has gotten so bad and hateful that it is beyond description. Mainstream Media must clean up act, FAST!"
"Everything for him is placed in a political context that he interprets as not requiring the president to kind of play the role of leader of the country," said Leon Panetta, a former White House chief of staff. "He's in the middle of an election campaign. He's been doing all of these rallies. I think in many ways there was a sense that whether or not this threat was real or not, that this was just kind of the political volatility that we're all part of."
On Tuesday, Trump visited Pittsburgh to pay respects to the 11 persons killed during Sabbath services at the synagogue in the city's historically Jewish Squirrel Hill neighborhood, and to visit the four wounded police officers. Trump was met with a reported 1,000 protesters who rejected his combative rhetoric and anti-gun-control stance. Like Sayac, 46-year-old Robert Bowers of Pittsburgh had been monitoring the Central American migrant caravan and believed that Soros and other liberal Jewish organizations were orchestrating the movement.
Bowers had a history of posting anti-Semitic and anti-immigrant statements on social media, including one just moments before his deadly rampage. Bowers' post specifically mentioned a Jewish-founded nonprofit that helps resettle refugees from around the world and had worked with Dor Hadash, one of the three congregations that meet in the synagogue. Prosecutors on Monday said they will pursue the death penalty in what was the deadliest anti-Semitic attack in U.S. History. Jerry Rabinowitz, a 66-year-old physician and member of Dor Hadash, was killed while helping to set up morning services. Another Dor Hadash member, Dan Leger, was wounded.