New NFL anthem policy may fall short of legal scrutiny
Players continue to speak out
Lauren Victoria Burke NNPA Newswire Contributor | 5/31/2018, 10:11 a.m.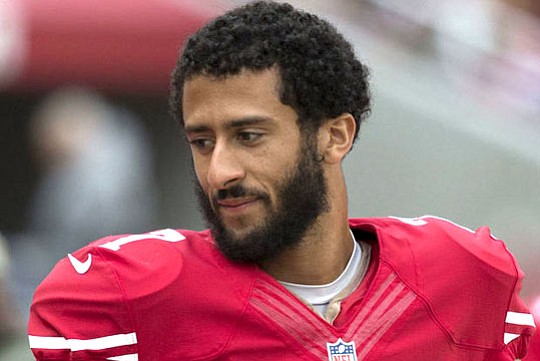 Protesters held a rally in front of the National Football League's New York City headquarters on May 25 after the league announced new rules that punish players who don't stand for the national anthem.
Tamika Mallory, a civil rights activist, said that the NFL owners were acting as a "proxy for a fascist president" and that the new policy was an attempt to "resurrect slavery in the 21st century" and punish Black players. The kneeling protests started when former San Francisco 49ers quarterback Colin Kaepernick began sitting during the anthem and then kneeling as a protest against police brutality.
"What is being said is that the n–gas don't have basic rights," Mallory said. "And I want to say today that Ida B. Wells, Dr. Martin Luther King, Marcus Garvey, the four little girls in Birmingham are turning over in their graves right now about the disrespect, the disgrace, that is happening in this country."
Mallory continued: "If we, as Black people, lay down and allow this system to continue to oppress us, we are the ones to be held responsible."
Civil rights activist and author of "The Revolt of the Black Athlete" Harry Edwards told USA TODAY that the NFL's new national anthem policy was "the dumbest move possible."
"They put the protest movement on blast," Edwards said. "They just created a bigger stage than ever."
In a recent commentary for Vox.com, Harvard Law School labor professor Benjamin wrote: "This new league policy is meant to enforce a particular vision of patriotism, one that involves compliance rather than freedom of expression."
Sachs wrote that the new anthem policy was illegal—for a host of reasons.
"The clearest illegality derives from the fact that the league adopted its new policy without bargaining with the players union," Sachs wrote. "When employees, including football players, are represented by a union, the employer—including a football league—can't change the terms of employment without discussing the change with the union. Doing so is a flagrant violation of the employer's duty to bargain in good faith."
ESPN.com reported that President Donald Trump supported the NFL's policy that requires players to stand for the national anthem or remain in the locker room, during an interview with Fox News.
"I think that's good," Trump said. "I don't think people should be staying in locker rooms, but still I think it's good. You have to stand proudly for the national anthem or you shouldn't be playing, you shouldn't be there. Maybe you shouldn't be in the country."
Many players have already indicated that they are not happy with the new rule.
In a statement released on Twitter, Philadelphia Eagles safety Malcolm Jenkins wrote: "While I disagree with this decision, I will not let it silence me or stop me from fighting. The national conversation around race in America that NFL players forced over the past 2 years will persist as we continue to use our voices, our time and our money to create a more fair and just criminal justice system, end police brutality and foster better educational and economic opportunities for communities of color and those struggling in this country."