Familiar and new voices vie for local, state, national office
Our Weekly's choices for June 5 election
Merdies Hayes Editor In Chief | 5/31/2018, 9:30 a.m.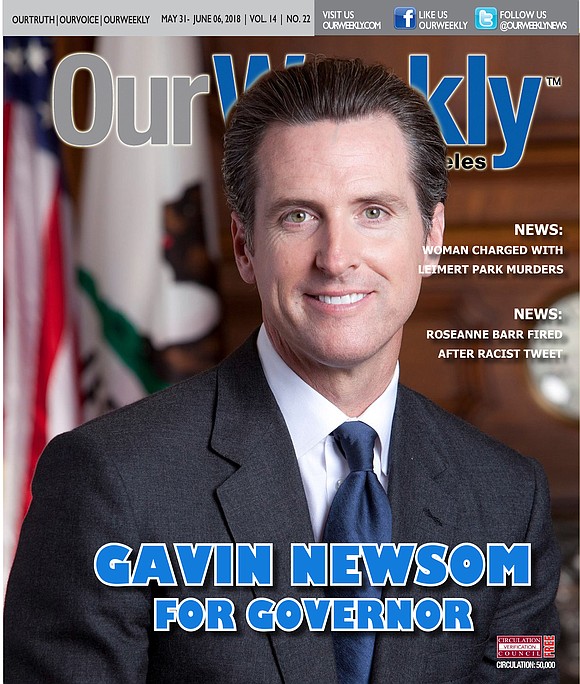 Gavin Newsom's background and tact are vital qualities for a leader to possess and apply to the role of governor. California has a golden opportunity to shine with balanced, tenacious and focused leadership. It is a leadership that will bring all of the state's residents opportunity for prosperity. It is a leadership that's one-of-a-kind in the race for governor.
Among the individuals and organizations who have endorsed Newsom for governor are Sen. Kamala Harris, Los Angeles County Supervisor Mark Ridley-Thomas, Los Angeles Unified School District Board Member George McKenna, Oakland City Council President Lynette Gipson-McElhaney, California Professional Firefighters, California School Employees Association, and California Teachers Association.
United States Senator
Diane Feinstein is California's senior senator and for nearly three decades on Capitol Hill has built a reputation as an independent voice in working to find solutions to the problems facing the state and the nation.
One of Feinstein's most notable accomplishments was leading a six-year review of the CIA's detention and interrogation program. The effort culminated in the 2014 release of the report's executive summary and passage of legislation banning the use or torture.
Feinstein was the first woman to chair the Senate Select Committee on Intelligence and, as chairperson, oversaw the passage of six consecutive intelligence authorization bills and the release of a key bipartisan report on the Benghazi attacks.
Feinstein is a senior member of the Senate Appropriations Committee, where she serves as ranking member on the Subcommittee on Energy and Water Development. In that role during California's drought, Feinstein secured billions of dollars for state communities including critical transportation, water supply and federal building projects.
As well, Feinstein serves on the Senate Rules and Administration Committee—which she chaired during the 110th Congress—and in that capacity was the first woman to chair the Joint Congressional Committee on Inaugural Ceremonies and presided over the 2009 presidential inauguration of Barack Obama.
House of Representatives
Maxine Waters (CA-43) is considered by colleagues to be one of the most powerful and influential women in American politics.
Re-elected in November 2016 to her 14th congressional term, Waters has represented South Los Angeles and portions of West and Southeast Los Angeles with courage and foresight in securing needed funding for a variety of improvement projects throughout her district.
Waters, the Ranking Member of the House Committee on Financial Services, is an integral member of congressional democratic leadership and is a member of the House Steering and Policy Committee. She is also a member of the Congressional Progressive Caucus, and member and past chair of the Congressional Black Caucus.
Waters is a co-founder of Black Women's Forum, a nonprofit organization of more than 1,200 African American women in greater Los Angeles. Waters has continued to confront the issues of poverty, economic development, equal justice under the law, and other issues of concern to persons of color, women, children, and poor people.
Rep. Karen Bass (CA-37) is completing her fourth term in Congress. Bass serves on the House Committee on Foreign Affairs where she is the Ranking Member of the Subcommittee on Africa, Global Health, Global Human Rights and International Organizations.