Familiar and new voices vie for local, state, national office
Our Weekly's choices for June 5 election
Merdies Hayes Editor In Chief | 5/31/2018, 9:30 a.m.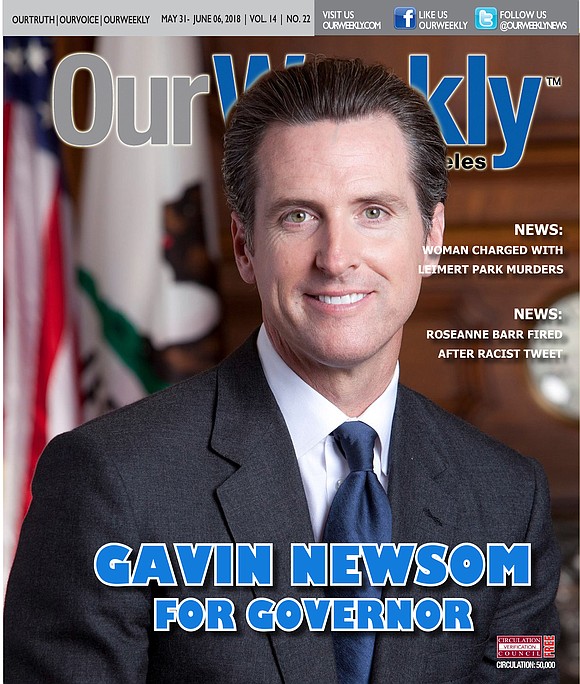 The management and staff of Our Weekly are strong advocates of voting. In each election, whether local, statewide or national, it is vital that the voice of our community be heard at the polling place. The following list constitutes the best selection of candidates that will serve our city, county and state honorably and effectively.
Governor
Lieutenant Governor Gavin Newsom in 1997 became the youngest member of the San Francisco Board of Supervisors. Former California Speaker of the Assembly Willie Brown at the time included him as part of the "future generation of leaders" in that city.
While on the board, Newsom advocated the form of the city's Municipal Railway and sponsored Proposition B to develop detailed customer service plans.
In 2004, Newsom was elected mayor of San Francisco and began to immediately focus on the city's rising homeless population, the immediate rebuilding of San Francisco Hospital, and was a strong advocate for healthcare and the environment. As mayor, Newsom focused on development projects in Treasure Island and in Hunters Point, signed the 2007 Health Choices Plan, and included San Francisco in the Kyoto Protocol to reduce the effects of greenhouse gas emissions.
Newsom was among the nation's first mayors to issue marriage licenses for same-sex couples Other notable accomplishments include Project Homeless Connect and the San Francisco Homeless Outreach Team. Newsom has received the Leadership for Healthy Communities Award.
Newsom's tenure as lieutenant governor has seen him advocate strongly for the environment, homeless persons, same-sex marriage, civil rights protections, and has been a leading opponent of the conservative policies of President Donald Trump.
Newsom has held institutions of higher learning accountable through keeping tuition manageable and transforming debate from "how much" to "free public education for all." As lieutenant governor, Newsom also used his position on the California State University and University of California boards to recruit and retain leaders from diverse backgrounds. He forced the state's public higher education system to prioritize admissions and supports for California high school graduates.
Through the Care Not Cash homeless housing support system, San Francisco pioneered more effective measures to address homelessness. Newsom has studied and worked to reduce homelessness, increase affordable housing options, and decrease gentrification. San Francisco's public health, human services and healthcare systems built integrated models for "whole person," cost-effective and accessible care.
During the Great Recession, Newsom brought San Francisco's budget into balance without deep layoffs or service reductions.
Law enforcement accountability is real to Newsom. He knows what is like to balance safety and transparency. Newsom is not afraid to demand answers to hard questions and press for reforms when answers are demanded.
San Francisco is a diverse jurisdiction but has been criticized for its treatment of African Americans. Displacement, discrimination and disrespect are "triple threats" that endanger Black San Francisco. Newsom made it a priority to fight the marginalization of Black San Francisco by supporting, among many other competent leaders in key positions, the political ascendance of London Breed. Her service on the Fire Commission, Board of Supervisors, in the presidency of the Board of Supervisors, and as Acting Mayor all have been encouraged and aided by Newsom.