Murder in Leimert
Family acquaintance arrested in connection with triple homicide
Gregg Reese OW Contributor  | 5/25/2018, midnight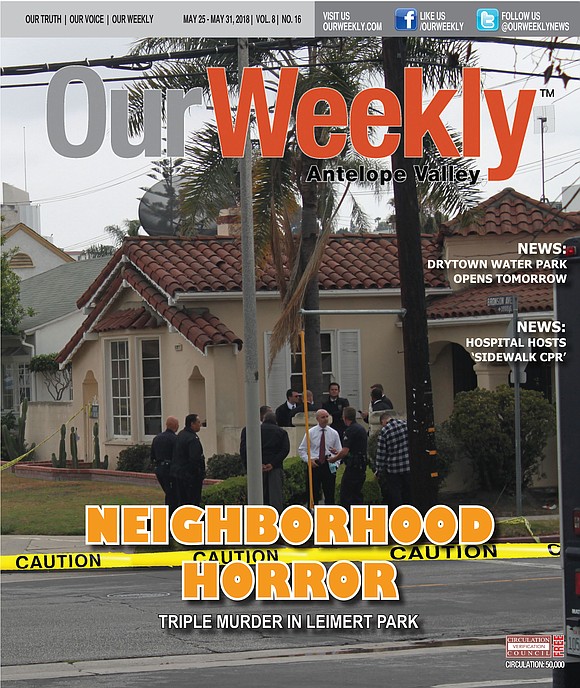 The majestic, Spanish-style homes that make up the neighborhood known as Leimert Park stand out for their manicured lawns and over all upkeep, a key factor in attracting home buyers priced out of West Los Angeles and other affluent areas. The tranquility of this peaceful community was shattered this week however, as a triple murder transpired in one of its stately abodes.
The deceased, an elderly couple and their son, were discovered Tuesday evening at about 8:20 p.m. by their grandson in the 3900 block of South Bronson Avenue. The victims, identified as William Carter, 82, his 77-year-old wife, Orsie, who live in nearby Baldwin Hills, and their son Peter White, 62, were found crammed into a bathroom of the single-family home.
Another occupant of the residence has been areested in connection with the case. She is one Nancy Amelia Jackson, in her 50s, who was initially misidentified as a caretaker for the deceased. Jackson is being held without bail. Earl Richardson, who lives across the street, identified her as a tenant on the property who'd met White in a bowling alley or skating ring some 10 years ago. Recently, White allowed Jackson into his home as she was experiencing financial difficulties. Jackson, who reportedly owned a home in Las Vegas, allegedly served as a housekeeper and possibly a girlfriend to White, and may suffer from mental issues. She was said to be driving an older model white SUV, perhaps a Ford Bronco or GMC, with license plates 4BGN193.
White, the owner of the home, was a retired Los Angeles County Probation Officer and former track star at Crenshaw High in the 1970s. Specializing in the 200-meter dash, he was among the top five finalists in that event, statewide. As he eased into middle age, he would reminisce about these youthful triumphs while patronizing the landmark Tak's Coffee Shop on Crenshaw Boulevard.
Longtime friend Ralph Tilley remembers him as a kind and quite soul, eager to help anyone in need. Associates and colleagues within the law enforcement community where he worked agree with this assessment, a quality which prompted him to let someone live in his house rent-free to help her get on her feet.
Maternal first cousin, Reggie Dunn, who grew up alongside White, affirmed this, citing him as an individual who would give you the proverbial "shirt of his back," whose generosity was almost a flaw.
"I used to get mad at him," Dunn remembered of their lifelong relationship, during which he was known as a "soft touch" who could and would give more then a neighborhood freeloader would ask for.
"Man, why did you give him all that?!" Dunn would snap at his spendthrift relative.
In later years, White suffered from Multiple Sclerosis, and reportedly had been trying to evict Jackson for some time. People in the community reported loud arguments coming from the house in recent months.
  The Los Angeles Police Department has revealed the victims all suffered blunt force trauma. White and his mother sustained gunshot wounds as well. "It's just a sad way to spend your last days or your last breath, said Capt. Peter Whittingham, commenting on the tragedy.