Teen murders in South Los Angeles raise specter of new gang war
Hannah Bell and LaMarrion Upchurch die weeks apart
William Covington OW Contributor | 5/17/2018, midnight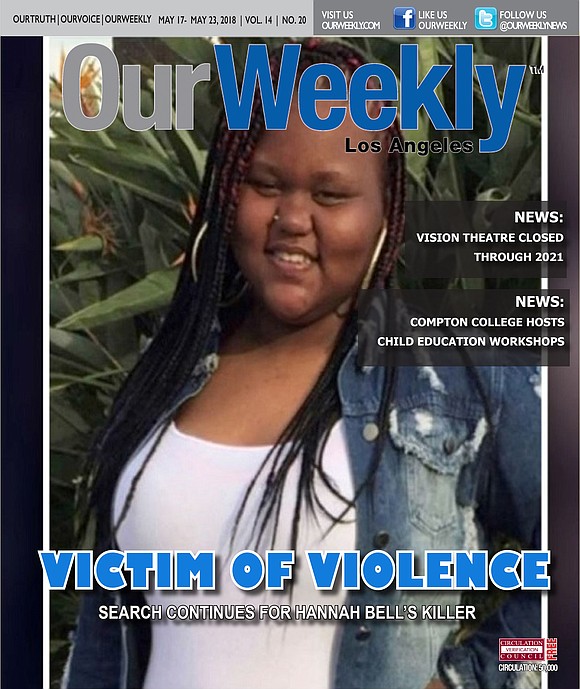 On April 27, Hannah Bell was shot multiple times, at least once in the lower torso, according to LAPD Det. Everardo Amaral. Bell died one hour later at a nearby hospital.
Bell, 15, and her mother had been living with relatives a few blocks from The Best Burger at Western Avenue and 78th Street, relatives said. That evening, Bell and her mother walked to the hamburger stand for a bite to eat. "They'd taken this trip many times," said Nancy Wilson, Bell's aunt. Around 8:55 p.m., as Bell and her mother stood in line to order, multiple shots were fired, authorities said.
"My mom told me she pulled Hannah down to protect her," said Markeis Jones, the teenage girl's brother. "When the shooting stopped, my mom got up and told Hannah to get up...but she didn't."
Two weeks after Bell was killed, LaMmarrion Upchurch, a 15-year-old student at Long Beach's Cabrillo High School, was shot to death in a South Los Angeles parking lot, according to authorities.
Upchurch was an up-and-coming dancer who went by the moniker "Lil BZ" in LA's hip-hop clowning scene, according to members of the dance crew he performed with.
Upchurch was killed along with another teenager and two young men wounded around 1:30 a.m. May 13 when a car pulled up to them near Manchester Avenue and the 110 Freeway, according to police. The people in the car reportedly began yelling and proceeded to open fire, an LAPD spokeswoman said.
Upchurch died at the scene, police said. The three others with him were wounded and taken to a hospital in stable condition, according to authorities.
"It took everybody by surprise. He was a pretty popular dude," said Tommy Johnson, who is known for bringing the clowning dance style to Los Angeles as "Tommy the Clown."
Immediately after the shooting of both teens, rumors began circulating that both shootings were gang initiation homicides. To determine whether these were just rumors, several older gang members, law enforcement officials and gang specialist were interviewed investigating a new fear of African American gangs killing civilian or non gang affiliated individuals.
"John Smith," a Metrolink construction worker who has been a gang member for more than 30 years, told Our Weekly exclusively that no gang member deliberately kills kids.
"Bloods and Crips do not kill kids...we kill gangsters and earn stripes with pride. We will drive around and look for the enemy. We do not shoot innocent occupants of the village, when looking for a rival. When something like this occurs in our neighborhood—the shooting of a kid—we attempt to find out who approved of the shootings. When law enforcement describes a shooting in the hood as a 'gang homicide,' the common reason [they have] for the shooting being associated with a gang initiation," Smith explained. "It is my belief that the term gang initiation is used so detectives will not have police captains up their rear ends demanding results. Kids are targeted deliberately in Mexico and El Salvador, but not in South Los Angeles. Killing kids is stuff that the Mafia does. It usually involves business, drugs, or money."