Democratic Congressional Campaign Committee adds first Blacks to list of top candidates
Carol Ozemhoya | OW Contributor | 3/23/2018, 11:23 a.m.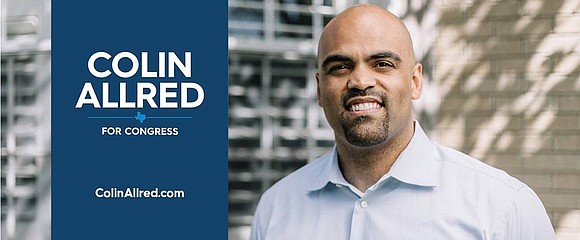 The Democratic Congressional Campaign Committee (DCCC) added nine more candidates to its "Red to Blue" program on Thursday, including the first two Black candidates this cycle to receive the designation highlighting the party's top House candidates. Thus far the majority of candidates highlighted by the program — which gives candidates fundraising and organizational support in their midterm campaigns — have been women. The DCCC has faced criticism in recent months for not having any Black candidates on the list. Buzzfeed reported in February that the Collective PAC, a group that supports Black congressional candidates, sent the DCCC a letter outlining frustration with the lack of any Black candidates on the "Red to Blue" list. The two Black candidates whose additions were announced Thursday are Texas's Colin Allred and Illinois's Lauren Underwood. Quentin James, the Collective PAC's executive director, applauded the additions in a statement Thursday as an "important step in the right direction. We are excited our efforts to ensure the DCCC uplifts, highlights and prioritizes black candidates are achieving results," he said. "Black candidates have just as much talent, fundraising capability and viability as other candidates and they've not only earned but deserve national party support. With more black candidates running for Congress than ever in U.S. history this year, it is critically important that we elect a more diverse and reflective Congress in 2018." The designation is not an endorsement, but an indication that candidates have met certain thresholds about the health of their campaign organization and fundraising operation. Even so, it's a coveted selection because the DCCC gives these candidates additional resources as they build out a campaign they hope will unseat a Republican incumbent. Allred and Gina Ortiz-Jones, another add to the Red to Blue list on Thursday, have advanced to runoffs in Texas primaries. Allred also finished first in his primary race but could not avoid a runoff. The former professional football player and member of the Obama administration's Department of Housing and Urban Development is up against another former Obama administration official, Lilian Salerno, for the right to take on Rep. Pete Sessions (R-Texas) in a district that Democratic presidential nominee Hillary Clinton won in 2016, but one where Sessions remains the clear favorite.