Pressure builds on Black leaders to denounce Farrakhan
Richard B. Muhammad and Charlene Muhammad OW Contributors | 3/22/2018, 9:35 a.m.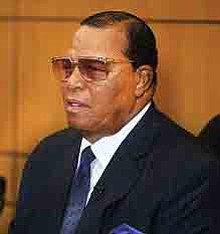 Jewish billionaire Sheldon G. Adelson, RJC board chairman, gave multi-million dollar donations to the Trump campaign and inauguration.
The Executive Council of the Nation of Islam March 9 expressed via an open letter "deep disappointment" in CBC members who bowed to Jewish pressure.
Representatives Lee, Davis and Meeks joined Ellison, who had been the lone CBC member to publicly denounce Minister Farrakhan.
Rep. Carson told an Indianapolis TV station: "That organization (the RJC) doesn't have any credibility with me. I know they have a political agenda. The Congressional Black Caucus is asking that organization to condemn (Israeli Prime Minister) Benjamin Netanyahu and the (Israeli) government for discriminating against Africans who are migrating, who are fleeing dictatorships, who are fleeing oppression. There's a great deal of bigotry and racism happening right now they fail to condemn."
Minister Farrakhan called his Jewish detractors to a public debate. Similarly in a 2010 open letter, Min. Farrakhan urged Black leaders to review the book, "The Secret Relationship Between Blacks and Jews, Part 2" which documented how Jews gained control of the Black economy and benefitted from their paternal relationship with Blacks. 
"I am asking you to stand down and let them come out to me to defend their record and history of their relationship with us that we compiled from that which was written by their own scholars, historians, and Rabbis," he wrote. 
The Anti-Defamation League (ADL) attacked the Minister with Jewish, right-wing and mainstream media joining the assault. 
Activist Tamika Mallory was denounced for attending the Minister's speech in Chicago. In an op-ed published on newsone.com, the Women's March co-chair said, "I am the same woman who helped to build an intersectional movement that fights for the rights of all people and stands against hatred and discrimination of all forms. I am the same person today that I was before Saviours' Day." 
On Twitter, Jonathan Greenblatt, ADL chief executive officer, falsely charged Minister Farrakhan with scapegoating Jews and attacked Ms. Mallory.
"If you're Black and you're a powerful person, elected, corporate, whatever, if you are doing the bidding of White people, you are a super slave, that you have power and you're exercising that power against your own people," said Professor Raymond Winbush of Morgan State University in Baltimore.
It's a tragedy that Blacks have elected leaders whose constituents strongly support Minister Farrakhan but politicians don't because of influential lobbying groups, he said. 
Dr. Tony Monteiro, former Temple University professor, said Min. Farrakhan attracts Black and poor people "as a voice of Black America and its struggle against the forces of right-wing authoritarianism and racism, as well as a consistent voice against Israeli oppression of the Palestinians."