Pressure builds on Black leaders to denounce Farrakhan
Richard B. Muhammad and Charlene Muhammad OW Contributors | 3/22/2018, 9:35 a.m.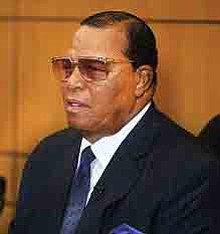 The Jewish stranglehold on Black political leaders was manifested when some Congressional Black Caucus (CBC) members caved in to demands by the Republican Jewish Coalition (RJC) that they denounce Nation of Islam Min. Louis Farrakhan.
Analysts and activists called the denunciations signs of the weakness of Black politicians amid Jewish efforts to isolate the minister. They predicted the efforts would fail.
A flood of half-truths followed Min. Farrakhan's late February address closing the Nation's Saviours' Day convention in Chicago.
The RJC called on Keith Ellison (D-Minn.), Barbara Lee (D-Calif.), Maxine Waters (D-Calif.), Danny Davis (D-Ill.), Andre Carson (D-Ind.); Gregory Meeks (D-N.Y.) and Al Green (D-Texas) to resign. The congressmen should step down for meeting with or dialoguing with Min. Farrakhan, the RJC said. By March 8, Davis had joined Lee and Meeks in disavowing the Minister.
Dr. Boyce Watkins, an economist and political analyst, spoke candidly about the congressional cave ins. "It's a lack of power. It's fear! A lack of discipline, a lack of self-respect, which leads to no respect," he said.
"What's interesting to me is that they will condemn the words of Minister Farrakhan and say we condemn hate speech of any kind, so you're going out of your way to attack another Black person on behalf of White people ... but in your quest to allegedly condemn hate speech of any kind, you never once condemn the Jewish community for running these record labels where every other rapper is calling Black people the N-word, and every other rapper is promoting Black genocide, which has been more insidious, more effective, longer lasting than the genocide imposed on the Jews during the reign of Adolf Hitler," argued Dr. Watkins.
"What the Jewish community is going to have to confront is the fact that you have been our Hitler. You have mass-promoted, through media, the extermination of Black people through Black-on-Black crime, the complete disrespect of Black women and Black families in your music, and not once have you ever condemned that as hate speech," Dr. Watkins said. "So, you condemn us. Well, we condemn you."
Charles Steele, SCLC national president, recounted how the Minister gave money to keep SCLC doors open when the group was broke.
Min. Farrakhan didn't ask questions and wrote a check to support work in the spirit of Dr. Martin Luther King and the civil rights movement, Dr. Steele said.
Philadelphia activist Pam Africa said the Jewish influence on Black life shows Blacks have gotten nowhere in the Black-Jewish relationship. Blacks have been relegated to kiss-ups and suck-ups to what is wrong as indicated by the lawmakers' denunciation of Minister Farrakhan, she said.
"They're the Judas that Jesus Christ dealt with," she said.
With discontent over President Trump and controversies that could turn off female voters, pressure on Democrats, activists like Tamika Mallory and the "Farrakhan controversy" are designed to weaken Democrats, anti-Trump activists and lessen possible GOP losses in 2018 mid-term elections, said some analysts.
Donald Trump, Jr. attacked Min. Farrakhan via Twitter. Ari Fleischer, a RJC board member and former spokesman for President George W. Bush, joined the anti-Farrakhan Twitter attacks supported by Sean Hannity, his other Fox News colleagues and Alan Dershowitz.