Waffle House worker gets college tuition reward for helping senior citizen
Carol Ozemhoya | OW Contributor | 3/12/2018, 10:04 a.m.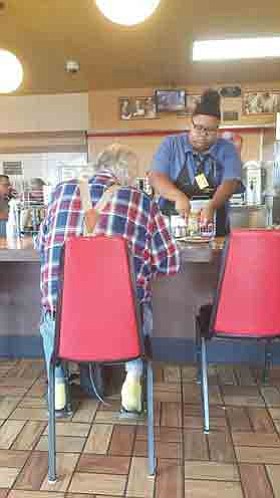 She's just a teen, trying to work her way into college. And now one act of kindness has gotten her closer to that goal. Earlier this month, Evoni Williams, 18, a server at a Waffle House in La Marque, Texas, responded kindly when an elderly man asked her to cut his food. He told the young lady that his hands don't always function too well. "He needed me to cut his food, and I did," Williams told reporters. That day, Laura Wolf was eating at the same Waffle House and saw the whole scene go down. She picked up her phone and snapped a photo of Williams helping the elderly man. Wolf posted the photo on Facebook along with an explanation, and the post went viral. One of the things Wolf said in her post was: "I'm thankful to have seen this act of kindness and caring at the start of my day while everything in this world seems so negative. If we could all belike this waitress and take time to offer a helping hand…" According to CNN, Williams is saving for college to study business management. Within days, the City of La Marque awarded Williams with her own day, and… she also was provided with a $16,000 scholarship from Texas Southern University. Williams says what she did for the elderly man is "something I would do any other day." Officials at Texas Southern say they have assigned a counselor to Williams to help her start her plan toward a college degree.