Compton Mayor Aja Brown Enters 44th Congressional District Race
Carol Ozemhoya | OW Contributor | 3/9/2018, 10:51 a.m.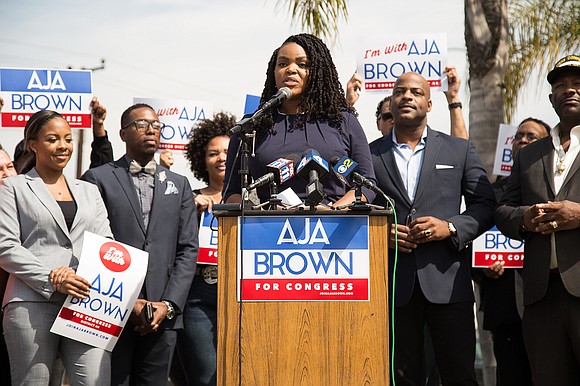 "I am committed to representing the cities and communities of South Gate, Lynwood, Carson, Compton, Watts, Willowbrook, Long Beach, and San Pedro with dignity, unwavering commitment and the tenacity necessary to stand on the front lines for the future of our families.
"My vision for a greater 44th is anchored in delivering real results, through building coalitions that unify, partnering with our cities to bring forth new investment, new opportunities and focusing on collective progress that we can see and touch.
"Being a congressional representative is more than voting in Washington D.C. on issues that matter to us all, it's also about the responsibility to work with every city in the district on moving it forward to bring forth real results that improve the lives of the families that we serve.
"Lastly, the election of 2016 was marred with dirty politics and divisive rhetoric—similar to what we see coming out of Washington today. This congressional race is special, as we are all women candidates.
"As we celebrate International Women's Day, I challenge each and every candidate in this race to run a clean campaign. Reject dirty divisive politics "that only seek to confuse and manipulate voters. I will not participate in dirty politics. I urge every leader to choose progress over politics and let the best woman serve the great 44th.
"Onward."
Aja Brown made history in 2013 at the age of 31 when she was elected the youngest mayor ever in the city of Compton.
The 44th district is composed of the following cities and communities: Carson, Compton, Lynwood, North Long Beach, Rancho Dominguez, San Pedro, South Gate, Watts, Willowbrook, Walnut Park, and Wilmington.
Find out more about Brown's candidacy at JoinAjaBrown.com.