Black women key to American progress
Merdies Hayes Editor In Chief | 3/2/2018, midnight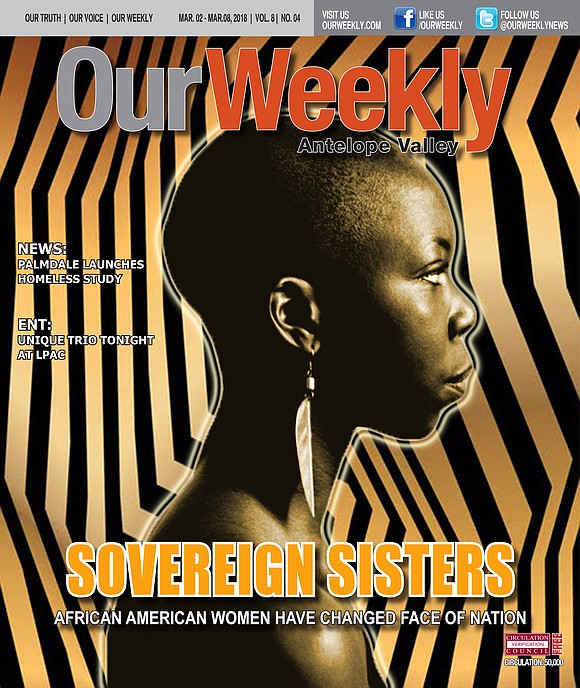 Throughout the nation's history, African American women have played historic—and often pivotal—roles in shaping the foundation of the nation. Many of these women served as key figures in the struggle for civil rights, while others made major contributions to the arts, sciences and civil society in general.
Phillis Wheatley
With Africans arriving in the New World in 1619 to serve as slaves, it wasn't until 1780 that Massachusetts formally outlawed slavery, the first colony to do so. During this period, there were a few African Americans living as free persons and their civil rights were sharply limited in most states. Phillis Wheatley was one of the few Black women of the Colonial period to rise to prominence. Born in Africa, she was sold at age 8 to John Wheatley, a wealthy Bostonian, who gave Phillis to his first wife, Sussana, as a handmaid. The Wheatley's were quickly impressed by the Phillis's sharp intellect and taught her to read and write, specifically schooling her in literature. Her first poem was published in 1767 and she would go on to publish a highly acclaimed volume of poetry, "Poems on Various Subjects, Religious and Moral" (1773) before dying in 1784—impoverished—but no longer a slave.
The Atlantic Slave Trade had reportedly had ceased by 1783 (the Northwest Ordinance outlawed slavery in the future states of Michigan, Wisconsin, Ohio, Indiana and Illinois), but slavery remained legal in the South. Two Black women played historic roles in the fight against slavery. Sojourner Truth, an abolitionist from New York, became active in evangelical communities and by the mid 1840s, she was speaking regularly on abolition and women's rights in New York and New England. History would remember her famous speech, "Ain't I A Woman," at the Ohio's Women's Rights Conference in 1851.
Harriet Tubman escaped slavery then risked her life repeatedly to guide other slaves to freedom. Born in Maryland, Tubman fled north in 1849 to avoid being sold "down the river" and she would make nearly 20 trips back to the South to shepherd some 300 runaway slaves to freedom. Tubman made frequent public appearances in speaking out against slavery, and during the Civil War she served as a spy for Union forces and nursed wounded soldiers. Tubman died in 1913.
Ida B. Wells
After the Civil War, the 13th, 14th and 15th Amendments granted African Americans rights they had been denied for 245 years. This progress, however, was hobbled by overt racism and discrimination, particularly in the South. Despite these barriers, a number of prominent Black women would lend their collective voices to the cause of freedom. Ida B. Wells during the 1890s would lead an aggressive campaign in print and during speeches against lynching. Wells was among the founders of the NAACP and would continue to lead the charge for civil rights, fair housing, equal education and women's rights until her death in 1931.
In a time when few women—Black or White—were active in business, Maggie Lena Walker was a pioneer. Walker in 1903 became the first American woman to found and operate a bank, the St. Luke Penny Savings Bank in Richmond, Va., and also founded the St. Luke Herald newspaper. She remained an influential person in America's financial industry until her death in 1934. Her home in the Jackson Ward area of Richmond is a National Historic Site.