Master of the Universe
Comic genius Michael Davis plots next-level move
Gregg Reese OW Contributor | 7/19/2018, midnight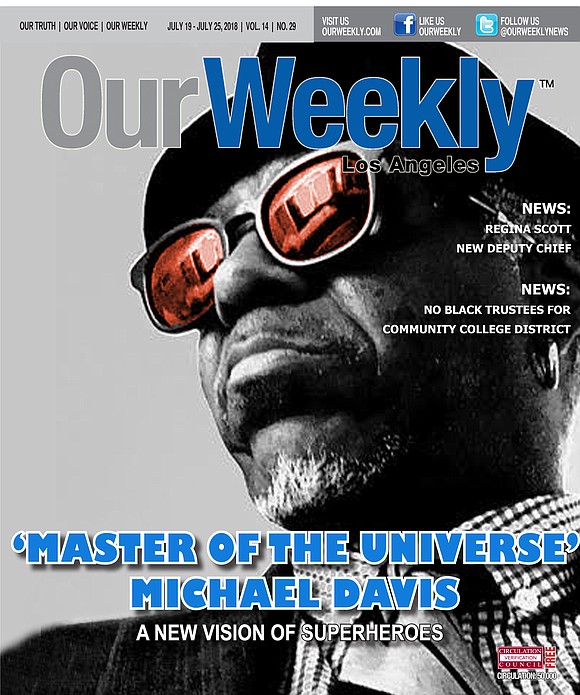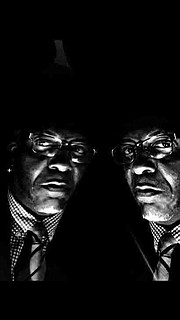 On the other side of the Santa Monica Mountains sits a nondescript ranch house, identical to many in the San Fernando Valley, and southern California in general.
We have driven out here on this spring day to meet Michael Davis, a name not familiar to the public at large, but a cultural force non-the-less. Since graduating from Brooklyn's prestigious Pratt Institute in the 1980s, Davis has made a more that respectable living as an artist and visual communicator in advertising, publishing, and related fields.  We've arrived there several minutes early to project the aura of being professional. When he comes out, Davis sarcastically admonishes us about the folly of two Black men loitering around in a predominately Caucasian neighborhood before ushering us inside.
A Progressive Breakthrough
"I'm considered by some to be uppity. Hell yes, I'm uppity when expected to kiss a and pretend like I'm not a grown a man."
—Michael Davis
By the 1990s, he and a group of like-minded African Americans working in the art-graphics-publishing world reasoned that 1) there was a dearth of ethnic characters in the fiction and popular culture realm; 2) that this deficiency in turn underscored a potentially lucrative void in readership; and 3) they had the talent and expertise to do so. In 1993, Davis and cohorts Derek T. Dingle, Denys Cowan, and the late Dwayne McDuffie founded Milestone Comics under the umbrella of the DC Comics chain.  
A major factor in its success was the creative freedom DC gave its creators.
"Milestone set the standard for diversity and changed the game for the comics industry," Davis remembers.
"Nobody did it better, and we never missed shipping. No comic book company has done that trick," a fete he attributes to founder and editor-in-chief, Dwayne McDuffie, abetted by DC editor Matt Wayne.
These astute business practices were balanced by the creative vision of veteran artist Cowan.
"Denys Cowan's vision is what fueled Milestone's unique character development,"  Davis  continued. "Without Denys there would be no Milestone." 
Acknowledging the part his colleagues played in this success, Davis stresses his own contributions in recruiting new talent.
"Off the top of my head (Milestone) alumni include John Paul Leon, Shawn Martinborough, Bernard Chang, and N. Steven Harris," were among the talents assembled by Davis. 
Milestone's introduction of ethnocentric superheroes caught on, especially the title "Static Shock," which became an animated television series. By 1997, friction between its parent company and dwindling sales prompted Milestone to suspend its retail distribution. Simultaneously, a fissure occurred among the principals within the company, regarding creator rights and interpersonal squabbling.  
Overall, Milestone became a landmark in the push for diversity in all media, and its legacy has been kept alive through the efforts of bloggers and fans within the comics' community on the Internet. 
Davis personally has kept the brand alive by "…squashing rumors, setting the record straight, creating opportunities, throwing parties, organizing panels and writing dozens of articles."
Aside from this, he's kept busy via the introduction of new material through non traditional channels such as the Black church and educational outlets, and high profile efforts including a stint as president of Motown Animation and Filmworks, and the animation component of Magic Johnson Entertainment.