Single dad walked 11 miles to work every day: co-workers buy him a car
Arkansas
Carol Ozemhoya | OW Contributor | 2/26/2018, 9:45 a.m.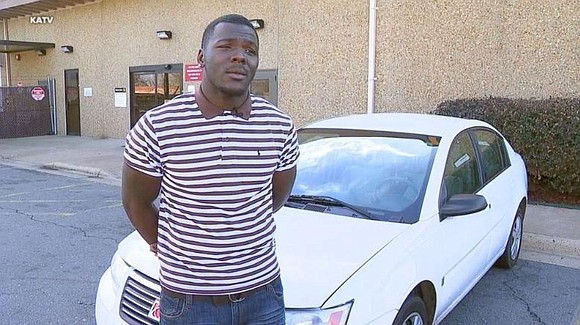 Trenton Lewis, a single dad in Little Rock, Arkansas, told CNN that his legs ached every day from the 11-mile walk he made to his job for UPS. At 21 year of age, he did it faithfully for seven months, with his main focus of providing for his 14-month-old daughter Karmen. "My pride is strong. Whatever she needs, I'm the person who is supposed to provide it for her," he told CNN. For the most part, he didn't tell anyone, but one of the co-workers found out and alerted others, and one day he was asked to come to a meeting. But instead of a meeting, he was handed the keys to a new car. "I was emotionally moved," he said of the surprise.
"My heart just fell." One of his co-workers named Patricia "Mama Pat" Bryant found out about Lewis' dedication to his little girl and started the effort to buy his a car. She and her husband Kenneth collected about $2,000. "Everybody that I talked to said yes! The hardest part was reminding them to bring cash," Kenneth Bryant said. "I told the seller what I was doing and who it was for and he said he was willing to work with me on a price." Bryant wanted everything to be perfect for the big reveal. He even went as far as fixing a small nick on the bumper. The group lured Lewis to the parking lot for that brief "union meeting." Kenneth Bryant reached into his pocket, pulled out the keys to the 2006 Saturn Ion and stunned Lewis. "God always has something for you," Lewis said. "I'm never going to forget this ever." Lewis thanked his co-workers profusely. His first ride in the car was to pick up his daughter for a bite to eat.