Federal prosecutors urge panel to uphold conviction of Lee Baca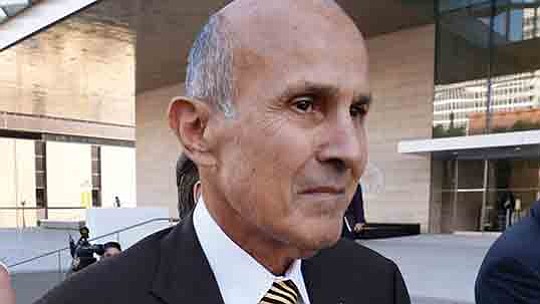 Federal prosecutors this week urged an appeals panel to affirm former Los Angeles Sheriff Lee Baca's conviction on charges of bstruction of justice and lying, crimes for which the ex-lawman is facing hree years behind bars.
In a 122-page appellate brief filed with the U.S. 9th Circuit Court of appeals, prosecutors argued, among other issues, that U.S. District Judge Percy Anderson was correct in barring jurors from hearing evidence of the ex-sheriff's Alzheimer's disease diagnosis. The defense contends that the ruling could have affected Baca's conviction for making false statements.
The appeals court has yet to schedule oral arguments in the case. Baca,75, remains free pending the panel's decision.
Baca's attorneys had wanted to use testimony from psychiatrist James par to show the jury that the former lawman's mind may have been impaired by he disease when he committed the acts for which he was convicted. But prior to Baca's retrial last year, Anderson ruled that Spar's testimony would be `entirely speculative'' and inadmissible.
In the just-filed brief, government prosecutors maintain that the judge made the right call.
"Spar's declaration ... revealed that he could provide no such evidence,'' prosecutors wrote in the brief. "Based on his review of valuations from early 2016—three years after defendant lied about the conspiracy he had overseen 18 months earlier—Spar concluded that he could not opine as to whether defendant suffered from any mental deficiency when he lied to federal investigators in April 2013.''
Further, according to the U.S. Attorney's Office, "As late as a year after defendant lied to federal investigators, a comprehensive screening at Kaiser Permanente's Geriatric Memory Clinic revealed no impairment in his cognitive functioning.'' Spar's testimony "would have been neither reliable nor helpful,'' prosecutors wrote. As to whether Baca "was impaired at all or whether there as even a likelihood that he was impaired, Spar would have left the jury to guess,'' the document stated.
Baca co-counsel Nathan Hochman has argued that Anderson's decision to bar testimony regarding Baca's supposed mental impairment amounts to reversible error and the appeals court should overturn the convictions.
Baca—who has said that he is in the early stages of Alzheimer's disease—was sentenced last May to three years in federal prison for his conviction on charges of conspiracy to obstruct justice, obstruction of justice and making false statements.
Prosecutors also dispute defense arguments that Anderson erred in barring jurors from hearing evidence of Baca's "cooperation'' with both the federal probe into wrongdoing by deputies in the jail system and that the use f an anonymous jury in Baca's trial was a mistake.
During Baca's two trials, prosecutors described the ex-lawman as being he top figure in a multi-part conspiracy, which also involved his former right-hand man, Paul Tanaka, and eight deputies who took orders from the sheriff.
Baca—who ran the nation's largest sheriff's department for more than 15 years—was first tried in December 2016 on obstruction of justice and conspiracy to obstruct justice counts, and prosecutors had planned a second trial on the false statements count. But a mistrial was declared after jurors deadlocked 11-1 in favor of acquitting the former sheriff, and Anderson combined all three counts in the retrial that ended with Baca's conviction.