'BlackKKlansman,' 'Panther' top list of African American films
Successful year for Black-themed cinema
Dwight Brown NNPA News Wire Film Critic | 12/21/2018, midnight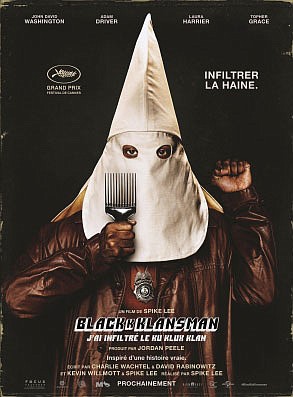 "Night Comes On"–Kids separated from their parents and relegated to foster homes and institutions should have their stories told. New actor-turned-director Jordana Spiro uses a script she co-wrote with Angelica Nwandu as a basis for her poignant ode to troubled youth. Dominique Fishback plays the train wreck of an 18-year-old older sibling in the process of leading her 10-year-old sister (Tatum Marilyn Hall) down the wrong path. Vulnerable characters you have to love.
"Private Life"– Every 10 years, writer/director Tamara Jenkins makes a feature film. It's worth the wait. A neurotic couple, nearing middle age, tries to have a child. Previously, they were so caught up in their lives that by the time they decided to have offspring, they had to scramble and hope IVF would pay off . Tough challenge for them. Great laughs for the audience. Kathryn Hahn plays the fretful wife with anxious humor and Paul Giamatti is the put-upon husband. A sweet, delicious adult comedy.
"A Quiet Place"– This is the absolute best use of sound effects ever devised for a horror film. A very innovative but scary take on a post-apocalypse world where demons' attacks are instigated by the slightest sound. Ingeniously conceived by actor/writer/director John Krasinski who guides his wife Emily Blunt into the performance of her career as the protective mom.
Best Directors
Ryan Cooler – "Black Panther"
Peter Farrelly – "Green Book"
John Krasinski –" A Quiet Place"
Tamara Jenkins – "Private Life"
Yorgos Lanthimos – "The Favourite"
Best First Films
"All About Nina" – Eve Vives
"Blindspotting" – Carlos López Estrada
"I Am Not a Witch" – Rungano Nyoni
"Night Comes On" – Jordana Spiro
"A Star Is Born" – Bradley Cooper
Best Foreign Language Films
"Capernaum"
"Dogman"
"The Guilty"
"I Am Not a Witch"
"Roma"
Best Documentaries
"Amazing Grace"
"Boom for Real: The Late Teenage Years of Jean-Michel Basquiat"
"Free Solo"
"Minding the Gap"
"Studio 54"
Best Actors
Christian Bale –"Vice"
Chadwick Boseman –" Black Panther"
John Cho – "Searching"
Bradley Cooper – "A Star is Born"
Daveed Diggs – "Blindspotting"
Best Actresses
Emily Blunt – "A Quiet Place"
Kathryn Hahn – "Private Life"
Regina Hall – "Support the Girls"
Rosamund Pike – "A Private War"
Julia Roberts – "Ben Is Back"
Best Supporting Actors
Mahershala Ali – "Green Book"
Rafael Casal – "Blindspotting"
Lucas Hedges – "Ben Is Back"
Michael B. Jordan – "Black Panther"
David Zaldivar – "Ben Is Back"
Best Supporting Actresses
Awkwafina – "Crazy Rich Asians"
Claire Foy – "First Man"
Danai Gurira –"Black Panther"
Regina King – "If Beale Street Could Talk"
Michelle Rodriguez – "Widows"
Best Screenplays
"Ben Is Back"--Peter Hedges
"Black Panther" – Ryan Coogler, Joe Robert Cole
"The Favourite" – Debra Davis, Tony McNamara
"The Green Book" – Nick Vallelonga, Brian Hayes Currie, Peter Farrelly
"Private Life" – Tamara Jenkins
Best Cinematography
Jimmy Chin – "Free Solo"
Alfonso Cuarón – "Roma"
James Laxton – "If Beale Street Could Talk"
Rachel Morrison – "Black Panther"
Linus Sandgren –" First Man"
Best Animation/CGI
"The Incredibles 2"
"Isle of Dogs"
"Spider-Man: Into the Spider-verse"
Other Great Films
"22 July," "Alpha," "Creed II," "Eighth Grade," "First Man," "Halloween," "Leave No Trace," "Love," "Simon," "Mission Impossible – Fallout," "Mobile Homes," "On the Basis of Sex," "A Private War," "Searching," "A Star is Born," "A Prayer Before Dawn," "Uncle Drew," "Vice," "What They Had," "The Wife."
Worst Movies
"Acrimony," "Loving Pablo," "Red Sparrow," "Robin Hood," "Solo: A Star Wars Story," "Suspiria," "Tomb Raider," "White Boy Rick ."