'41': In retrospect
How Bush Sr.'s political maneuvering set up today's veiled racial rhetoric
Gregg Reese OW Contributor | 12/6/2018, midnight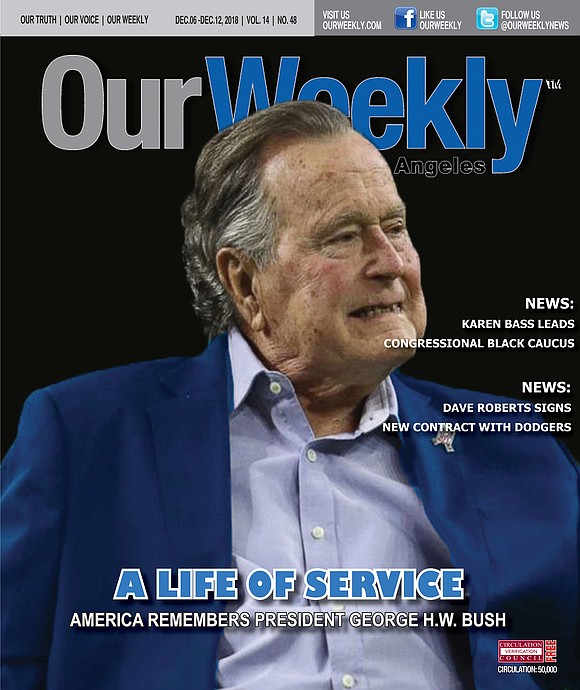 This week as former President George Herbert Walker Bush is lauded in Washington, D.C. and laid to rest in his adopted hometown of Houston, Texas, he will be rightly commended as a World War II hero, oil tycoon, a congressman, ambassador to China and the United Nations, CIA director, and architect of both the Cold War finale and Gulf War. This resume of course, is topped off by his tenure as the 41st President of the United States.
1964 Civil Rights Act
Early in George H.W. Bush's political career, when he was running for a U.S. Senate seat in Texas, he came out against the landmark Civil Rights Act of 1964, deriding his opponent as "radical" for supporting the bill that ended segregation in public places and banned employment discrimination. According to David Greenberg, a professor of history and journalism and media studies at Rutgers University in New Jersey, Bush reportedly said: "The new civil rights act was passed to protect 14 percent of the people. I'm also worried about the other 86 percent."
1968 Fair Housing Act
In an interview with Our Weekly, Javon Johnson, assistant professor and director of African American and African Diaspora Studies at the University of Nevada, Las Vegas, believes "Bush was often torn between the right thing to do versus the political thing to do. When Bush was serving as a freshman congressman from Texas, he joined a group of moderate thinking Republicans to support civil rights legislation and voted in favor of the 1968 Fair Housing Act, an action that did was not embraced by his conservative constituents back home."
The Fair Housing Act introduced meaningful federal enforcement mechanisms. It outlawed any refusal to sell or rent a dwelling to any person because of race, color, disability, religion, sex, familial status, or national origin.
According to Johnson, the refusal to support The Fair Housing Act seemed at odds with the Bush's family's long history of supporting civil rights. "His father, Prescott Bush, a Connecticut senator, was also an early supporter of the United Negro College Fund, serving as chairman of the Connecticut branch in 1951. Prescott Bush worked to desegregate schools, protect voting rights and with his own work raised money for the United Negro College Fund." Bush himself was an early supporter of the UNCF while a student at Yale University.
Johnson say's, "In Texas during that time, the Republican Party was steadily becoming more conservative and embracing the Southern strategy of appealing to White voters, Bush's position made sense if he wanted to win. The same strategy used today by President Trump."
According to Timothy Naftali, author of "George H.W. Bush: The American Presidents Series," Bush would later regret opposing the groundbreaking bills, even apologizing to his pastor Dr. Russell J. Levenson, Jr."
1988 George Bush's Presidential Campaign
"If you can buy crack across the street from the White House, then you
can buy it anywhere."
-President George Herbert Walker Bush speaking from the Oval Office on Sept. 5, 1989.
The path to this illustrious plateau found the President-elect being influenced, in part, by the efforts of campaign manager and dirty trickster the late Lee Atwater, a master of stoking the latent racism of voters without actually saying the "n" word. Atwater swayed voters in the 1988 presidential campaign away