An Inmate Hopes This Prison Program Will Give Him the Tools for a New Life
Part 1 of 2-part series
Hazel Trice Edney | 12/3/2018, midnight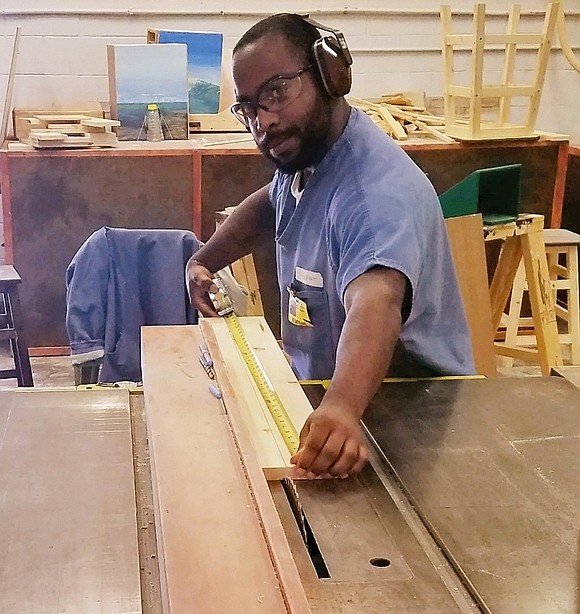 "Being in the DOC is like you're fending for yourself. You don't have the help from the teachers. And you've got to study on your own and learn for yourself," he said. "I prefer to be here and to do my time here - not to say that I love being in prison – but to be here, it's a blessing to be here."
His sentiments are echoed by dozens of others in GED programs, career skills classes, a tier specifically for faith-led inmates and drug rehab groups. Some, once hardened criminals, are nearly brought to tears while telling of their mothers and families witnessing their GED graduations.
GEO Care says any inmate who enrolls in the program is assigned a case manager upon their release. There is also a call center for released inmates that they have access to for 12 months.
Derrick D. Schofield, executive vice president of the COC program and Reentry Services for GEO, says GEO pours $2.9 million annually into the COC program at Graceville alone and $10 million annually into the 15 COC programs across the country. "When you do it dirt cheap, you get poor results," he said.

Schofield said GEO would like to place even greater resources toward the post-release services such as clothing, housing, and transportation. "We want them to succeed," Schofield said of the inmates.
Earlier this year, the GEO Group received the "Innovation in Corrections" Award from the American Correctional Association (ACA). Among the reasons was that the recidivism rate among released inmates who did not participate in GEO's COC program was nearly twice the rate as those who did participate in the program, according to analysis included in nomination for the award submitted by the School of Criminology and Criminal Justice at Florida Atlantic University.
Prior to serving as assistant warden of programs at Graceville, Wilton Cloud had spent 10 years as an assistant warden in the state corrections system. He said he thought, more or less, that this was the only way to do things. "But this company is sewing so many resources into this COC program that not only do they give an inmate an education or a vocation, but they also try to change their thinking so maybe they can put that to use," he said of his experience with Geo Care.
GEO Care says 90 percent of its inmates take advantage of the programs it offers and in some cases inmates have housing and even jobs awaiting them. The COC is only two years old and officials are just starting to gather statistics to determine the possible impact on recidivism. According to last year's annual report, the target goal was "assisting individuals reenter society as productive and employable citizens."
GEO's recent annual report also outlines a glowing list of successes, which include 2,615 high school equivalency diplomas, 7,814 vocational certificates and 8,412 substance abuse program completions. It also boasts on its award-winning cognitive, behavioral and substance abuse treatment; high tech, enhanced academic programming; enhanced vocational training through nationally certified programs, and faith-character based services with an emphasis on mentoring and therapeutic community settings.