An Inmate Hopes This Prison Program Will Give Him the Tools for a New Life
Part 1 of 2-part series
Hazel Trice Edney | 12/3/2018, midnight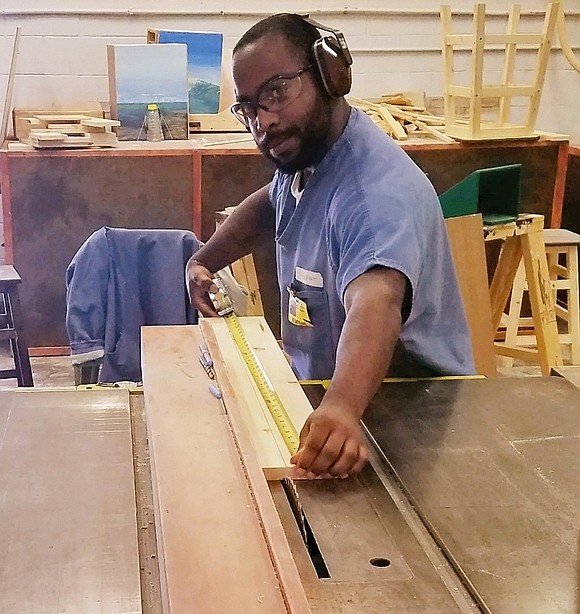 Elvin Colton (Not his real name) is a 32-year-old ninth grade dropout and recovering drug addict in prison for the fourth time. But later this year when he goes home to his children and family, he believes he will have spent his final years behind bars. There's a reason for his newfound hope.
Colton, whose real name is being withheld in order to protect his privacy, says the Continuum of Care Program (COC) at the Graceville Correctional Center - a privately-run facility operated by the GEO Group, Inc. in Jackson County Florida - is practically saving his life. Before leaving he will have earned his General Education Degree (GED). He also will have taken business and vocational courses offered at Graceville in preparation for his new life and career - a marked contrast to the way it was before - enduring a sentence and then being released from a public prison facility with little more than a bus fare home.
"It was, 'I'm gone do my time and then go home.' Get $50 and be kicked out," he recalled with a chuckle. The memories of other inmates in COC are basically the same. Another recalls being released with no transportation as he pleaded that his home was more than a hundred miles away.
While not a magic cure for the ills of the criminal justice system, Colton's experience under the COC program at Graceville has been much different as GEO Care and other companies are shedding light on ways that could help turn prisons from incubators of future crime to potential pathways for stability and security for former inmates.
Reducing recidivism has long eluded the experts. In 2005, the Bureau of Justice Statistics undertook a study of over 400,000 prisoners in 30 states to measure recidivism. The results were discouraging: 56 percent of former inmates were arrested within a year after release and more than two-thirds, or 67.8 percent, were back in the criminal justice system within three years.
In response to data like this, the National Institute of Corrections (NIC) and the U.S. Justice Department's Crime Justice Institute (CJI) produced a report, Implementing Evidence-Based Practice in Community Corrections: The Principles of Effective Intervention, such as assessing risk, targeted skills training, reinforcement and getting feedback. GEO has long been developing ways to implement such principles and develop metrics to make sure they are effective.
"Being here and getting the education and the help I need, the tutoring and being in my substance abuse class," Colton says. "And then my continued care like they help out a whole lot with being released back into society, like all the benefits they have as far as like you get help with your housing and somewhere to live, you get bus tickets if you don't have transportation. They help with so much stuff…It's like positive-in, positive-out, you know."
A father of five children, yearning to succeed for himself and for them, Colton says his experiences in the public Department of Corrections have been no comparison.