Gone to glory
Undisputed 'Queen of Soul' Aretha Franklin passes at 76
Gregg Reese OW Contributor | 8/24/2018, midnight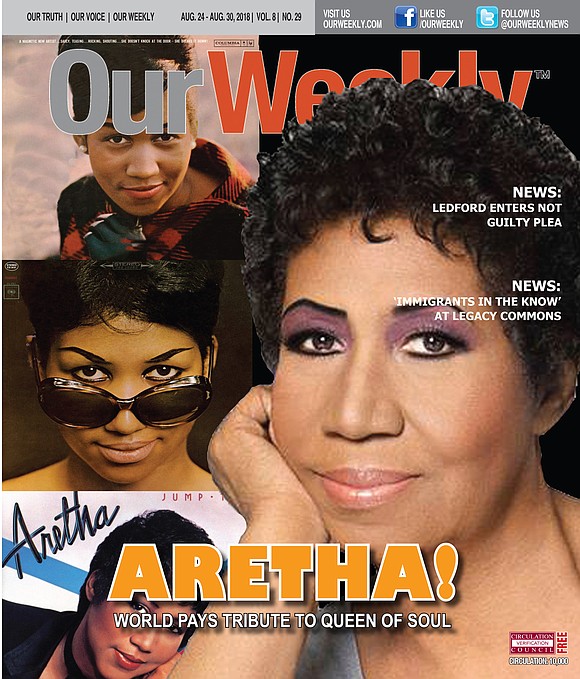 "Aretha" is a feminine name derived from the Greek "arête," meaning beautiful, excellent, or virtuous. Over the last half-century however, it has been appropriated globally by the daughter of a Baptist preacher, one Aretha Franklin. Over the years, she has been endowed with various honorifics and titles, prominently the "Queen of Soul," a title bestowed upon her by disk jockey Pervis Spann on stage in 1968.
 In the early morning of Aug. 16, 2018, the singer, songwriter and pianist who performed before heads of state, royalty, and the Pope died at the age of 76, surrounded by family and friends. She'd been in declining health recently, and had been placed in a hospice days before she expired. The cause of death was pancreatic cancer.
Born and Bred
Aretha Louise Franklin was born March 25, 1942 to the Rev. C.L. Franklin and Barbara Siggers appropriately enough, in the musical bastion of Memphis, Tenn. Eventually the family settled in Detroit, MI., but her parent's union was reportedly strained due to the father's infidelity, and her mother eventually moved away to Buffalo, N.Y. Daddy Franklin was a celebrity in his own right, possessing a fine singing voice, but more importantly a prominent minister and civil rights leader, as socially progressive as he was promiscuous. An early proponent of what became known as "Black-liberation theology," he continued in the itinerant preaching circuit tradition, delivering sermons throughout the country when not at the pulpit of the New Bethel Baptist Church in Detroit. Earning a tidy income from his oratory and record sells of sermons (one of which is preserved in the National Recording Registry at the Library of Congress), the reverend counted Adam Clayton Powell and Martin Luther King as intimates and houseguests. Also in his social circle were legendary gospel singers Mahalia Jackson and Clara Ward, who acted as surrogate mothers and nurtured young Aretha's musical development.
Performing on her father's preaching tours, the budding songstress was courted by soul pioneer Sam Cooke (whom she aspired to follow by crossing over to pop music) at RCA, and Motown's Berry Gordy before going to Columbia Records at 18. Interestingly enough, she floundered while signed to Columbia. It's Artist and Repertoire man, Mitch Miller (who'd passed on signing rock icons The Beatles, Buddy Holly and Elvis Presley) stifled her gospel roots and attempted to shape her into the mold of mainstream pop artists Tony Bennett, Johnny Mathis and other bestselling vocalists on the Columbia roster.
Rebirth
"I took her to church, sat her down at the piano, and let her be herself."                                               -Jerry Wexler
Lured over to the Atlantic label by Turkish immigrant turned music executive Ahmet Ertegun (who developed an appreciation for Black music as a school boy in Washington, D.C.), she journeyed south to the historic Muscle Shoals (Alabama) FAME studio under the direction of producer Jerry Wexler, to record what came to be the album "I Never Loved a Man The Way I Love You." Abetted by tenor sax giant King Curtis and her sisters Carolyn and Erma on backing vocals (along with cousin Cissy Houston), she turned vinyl into magic, with the help of some country rooted session men assembled by recording legend Rick Hall.