Rep. Jim Clyburn urges democrats to invest more with Black media
Important aspect of expected 'Blue Wave'
Stacy M. Brown NNPA Newswire Contributor | 8/23/2018, midnight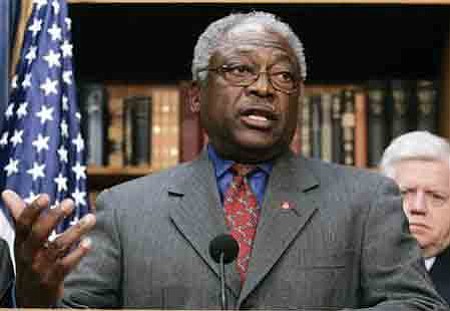 While there's at least a perceived growing number of Democrats who say they want to replace California Rep. Nancy Pelosi as the Democratic leader in the House of Representatives, South Carolina Rep. Jim Clyburn has emerged as a favorite among his peers to become the first African American to hold that position.
In an exclusive interview with the NNPA Newswire, the 25-year congressman said that, while he's ready for the challenge, Democrats currently have much bigger fish to fry.
"The first order of business is to win the [midterm] elections on November 6," Clyburn said. "That's what I've been concentrating on."
Clyburn and Congressional Black Caucus Chair Cedric Richmond each told the NNPA Newswire that they've identified 37 districts across the country they believe can be won by Democrats this year, which would wrest control of the House from Republicans.
"We feel, with the right kind of effort, we can win," Clyburn said.
Clyburn listed three keys to success this November.
The first key, Clyburn said, is to prioritize the Black vote; Democrats can't afford to take the African American vote for granted.
The secondly, the Democrats shouldn't rely on an anti-President Donald Trump wave to get out the vote. Finally, Clyburn said that candidates must advertise in the Black Press , if they want to win in November.
"We are also talking about districts where Barack Obama won twice and where Hillary Clinton also won, but these voters don't turn out for the so-called 'off-year elections,'" Clyburn said. "We can't let these voters feel like we're taking them for granted."
Clyburn, 78, said he was recently taken aback by one candidate, who said that he could win the Black vote by running on an anti-Trump platform.
"Wait one second," Clyburn said that he told the individual. "We can't just go around being 'Republican-light.' We have to be out there putting forth an alternative message, for our base, and we have to reach out to Black voters and let them know we're not taking them or any of our base for granted."
To that end, Clyburn said advertising campaigns must largely include the Black Press.
"It's very, very important…Chairman Richmond and I have had candidates in and we've been telling them that one of the best ways to demonstrate that you're not taking the Black vote for granted is to advertise in the Black Press," Clyburn said.
The National Newspaper Publishers Association (NNPA) is the oldest and largest trade group representing the Black Press, comprised of more than 200 Black-owned newspapers operating in the the United States.
"I've been in [the Black Press]. My daughter and I ran a newspaper down South, so I know that candidates tend to take Black media for granted," Clyburn said. "They tend to judge Black media the same way they do other media and you just can't do that, because the business model is totally different."
Each Sunday after attending Morris Brown A.M.E. Church in Charleston, S.C., Clyburn said he and other churchgoers habitually pick up the local Black-owned newspaper.