Music world mourns passing of legendary Aretha Franklin
'Queen of Soul' dies at age 76
By Merdies Hayes Editor In Chief | 8/16/2018, 11:53 a.m.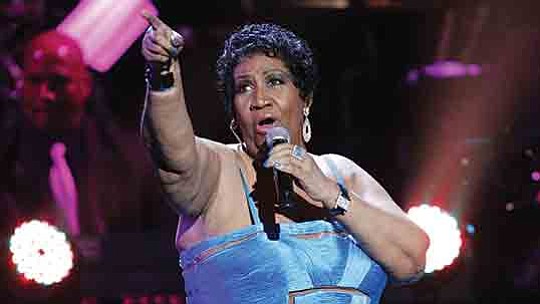 Fans gathered this morning at the Hollywood Walk of Fame star of Aretha Franklin, 6920 Hollywood Blvd. (near Orange Street), to pay tribute to one of the most dynamic and influential singers of a generation. The legendary performer lost her battle with pancreatic cancer today and died at age 76 at her home in Detroit, Mich.
"In one of the darkest moments of our lives, we are not able to find the appropriate words to express the pain in our heart. We have lost the matriarch and rock of our family. The love she had for her children, grandchildren, nieces, nephews and cousins knew no bounds," Franklin's family said in a statement.
Tributes began immediately pouring in from the music industry, the motion picture industry and from politicians. President Donald Trump this morning offered "Condolences to the family of a person I knew as well. She brought joy to millions of lives and her extraordinary legacy will thrive and inspire many generations to come. People loved Aretha. She was a special woman." Former President Barack Obama said, "Aretha helped define the American experience. In her voice, we could feel our history, and all of it and in every shade—our power and our pain, our darkness and our light, our quest for redemption and our hard-won respect." Franklin performed
"My Country, 'Tis of Thee" at Obama's 2009 presidential inauguration. Rev. Jesse Jackson said this week after he and Stevie Wonder had visited her, "While her music was big, her heart was even bigger."
Diana Ross, a decades-long contemporary of Franklin on the R&B charts, tweeted: "I'm sitting in prayer for the wonderful golden spirit of Aretha Franklin." Patti LaBelle this week called Franklin "...the greatest singer of all time," while music producer producer Clive Davis said, "I'm absolutely devastated by Aretha's passing. She was truly one of a kind. She was more than the Queen of Soul. She was a national treasure to be cherished by every generation through the
world." The outpouring continued throughout the morning as figures such as former Secretary of State Hillary Clinton, "Hamilton" star Lin-Manuel Miranda, and musician Carole King, who wrote one of Franklin's biggest hits "(You Make Me Feel Like) A Natural Woman," remembered the iconic
singer. "What a life. What a legacy! So much love, respect and gratitude. RIP," King said. Paul McCartney tweeted: "Let's all take a moment to give thanks for the beautiful life of Aretha Franklin, the 'Queen' of our souls, who inspired us all for many many years. She will be missed, but the memory of her greatness as a musician and a fine human being will live with us forever." Barbra Streisand tweeted: "It's difficult to conceive of a world without her. Not only was she a uniquely brilliant singer, but her commitment to civil rights made an indelible impact on the world."
Elton John wrote a series of tweets: "The whole world will miss her but will always rejoice in her remarkable legacy. We shared the same birthday, and that meant so much to me. The Queen of Soul is dead. Long live the Queen." And John Legend commented on twitter: ""Salute to the Queen. The greatest vocalist I've ever known."