Iconic Packers opening museum display of first Black players
Carol Ozemhoya | OW Contributor | 8/7/2018, 9:58 a.m.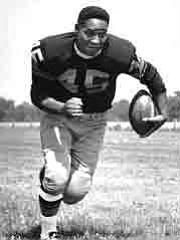 The Green Bay Packers are one of the most stories teams in the NFL. For one thing, the team is not owned by one individual or a family, it's owned by hundreds of thousands of people. It also won the first two Super Bowls under the coaching of the legendary Vince Lombardi, with the Super Bowl trophy named after him. What a lot of people might now know is that Lombardi worked at breaking the color barrier in Green Bay (and around the league) when he brought in Emlen Tunnell in 1959. That story and others is on display in Green Bay, nicknamed Titletown USA, in a new feature at the Neville Public Museum in downtown Green Bay called "Delay of Game: Experiences of African American Players in Titletown." Tunnell, Reggie White and Bob Mann are three of the former players given voice during the Packers' 100th anniversary celebration. Among those interviewed for the exhibit were Robyn Davis, executive director of United Way of Brown County and a Green Bay Packers director, Harry Sydney, Dexter McNabb and Heaven Daniels, wife of current Packers defensive tackle Mike Daniels. Providing support and lending artifacts to the exhibit, to go along with the museum's extensive photo collection, were the Packers, Green Bay Packers Hall of Fame Inc. and Bob Mann's family. Mann, a wide receiver, joined the Packers in 1950 after playing two seasons with the Detroit Lions. He was the first Black player on each of those teams. Mann died in 2006, but his wife, Vera, and daughters will be in Green Bay this week to be interviewed and see the exhibit. Mann played with the Packers for four years and led the team with 50 catches, 696 receiving yards and eight touchdowns in 1951. He challenged both the Lions and the Packers over contract issues, but that didn't permanently damage his status with either team. He became a lawyer after his playing days and was an honorary team captain for the Lions at the opening of Ford Field in 2002. He was inducted into the Green Bay Packers Hall of Fame in 1988. In 1959, Vince Lombardi brought Emlen Tunnell with him from the New York Giants, where Tunnell was an all-pro defensive back. Tunnell, who would be the first Black player elected to the Pro Football Hall of Fame, played three years in Green Bay.