Waffle House murders raise specter that racial murders are on rise
Another mass killing rocks nation
William Covington OW Contributor | 4/27/2018, midnight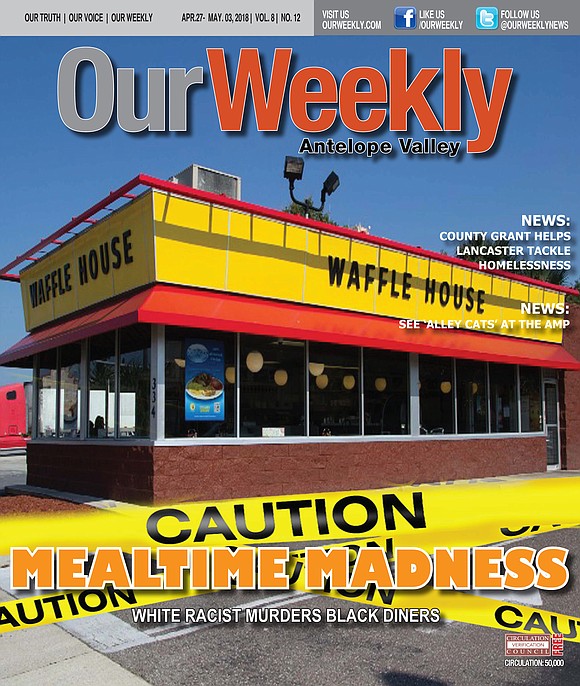 Travis Reinking, 29, killed four people, and wounded three others with an AR-15 rifle last weekend. The shootings took place in Antioch, Tenn. at a Waffle House restaurant famous for being a popular late-night hangout for local college students and a regular breakfast spot for the community in general.
Following the incident, dozens of enraged critics flooded social media with complaints about Reinking being described as a "lone wolf" suffering from mental illness as opposed to being described as a White terrorist.
Dr. Javon Johnson, an assistant professor and Director of African American & African Diaspora studies at the University of Nevada, Las Vegas, believes socially conscious people should be upset.
"White shooters are often described by the media as 'lone wolves' suffering from some type of psychosis," Johnson explained. "They're automatically labeled as being mentally ill, which causes them to act on festering feelings of rage. When Blacks or Muslims carry out mass shootings, they are considered, terrorists. That's a double standard."
Johnson added that White males have committed more than 65 mass shooting on American soil this year.
According to Gun Violence Archive (GVA), a nonprofit entity formed in 2013 to provide free online information about gun-related violence in the United States, there have been 67 mass shootings and most of the shooters have been White.
Johnson believes that President Donald Trump's polarizing antics have widened the racial divide in this country, fueling white supremacy and violence against blacks and other minorities.
Johnson also pointed out that Trump has used the excuse of "mental illness" as a reason for the recent spate of mass murders while omitting the very real probability that these shootings were racially motivated.
Lisa Cutliff, a federal law enforcement officer, informed Our Weekly that if the Department of Justice believes it has sufficient evidence to prosecute and convict a mass shooter's actions as a hate crime, it will.
The primary issue in these cases, she explained, was gathering the necessary evidence to make a strong case, and that usually involves "digital forensics" (the recovery and investigation of material found in digital devices). Reinking, she said, was once detained by White House security and identified himself as a "sovereign citizen," a term often invoked by White supremacists.
According to Cutliff, last week's mass killing is still under investigation and it may be later classified as a hate crime which is a federal offense.
Hate crime statutes are filed if a victim is intentionally selected for violence because of his or her personal characteristics (race, religion, sexual orientation, etc.). In the Tennessee shootings, each of the victims were persons of color—five black and one Hispanic—in a region of the country with a history of racial tensions.
At first glance, the circumstances may lend themselves to the incident being racially motivated, although the 2016 The Dylann Roof (killings at Emanuel Church in Charleston, S.C.) took five days to be announced as a hate crime because of racist paraphernalia found in his residence.
It's not just the issue of evidence - Cutliff states there are other factors that influence whether authorities describe a mass killing as a "hate crime."