Starbucks under fire for racially insensitive policies
Management, staff to undergo training May 29
William Covington OW Contributor | 4/19/2018, midnight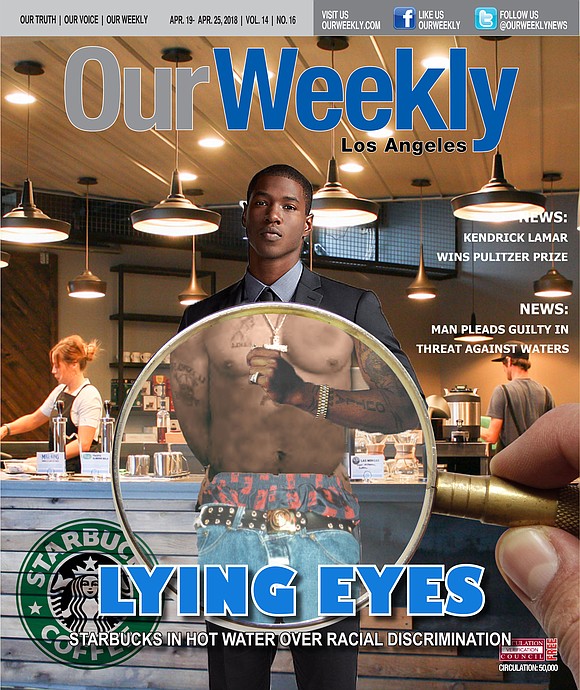 Fessler is conducting research partially funded by the U.S. Air Force dealing with assessing national threats. Participants are shown images of a set of hands holding objects such as caulking guns, power drills, a large saw and a handgun. Even though the hands belongs to the same person, when they were of a lighter complexion (non-Black), viewers report that the hands holding the gun looked larger in photographs.
However, when a participant was shown an image of hands belonging to a person of African descent holding a drill, people said the image gave the impression of a more menacing individual than the image of lighter-complexioned person holding a gun, even though the lighter-complexioned hands were larger.
All three researchers, Ross, Debic and Fessler, are pessimistic about any type of training involving racial sensitivity, based on their research. They believe the Starbucks manager had racially profiled the two African Americans in Philadelphia and the one African American in Torrance.  
Instilling cultural sensitivity
Daniel Mangrum, who works in the field of "loss prevention," believes the scrutinizing African American males could be the result of Starbucks staff associating Blacks with theft. According to Mangrum, quite a number of laptops and other electronic devices belonging to patrons have been stolen from Starbucks and in relation to food products such as artisan sandwiches are frequently stolen.
This scenario, according to researchers, creates a closed-door policy in regard to African Americans using Starbucks restrooms and enforcing a anti-loitering policy implemented by frustrated employees which, itself, may result in racial profiling. Mangrum believes the action of racial profiling is not the  spirit of Starbucks corporate management.
Starbucks line staff  may leave restroom doors unlocked or add key code entries if they feel the store is more at risk for criminal behavior. A store in the same area of Philadelphia experienced an armed robbery recently, according to Mangrum.
Mangrum also believes the other issue could have been sanitation. He suggests I visit "Starbucks Gossip" website, and view the following posts describing restroom usage.
The website has posts with the following:
—"I have personally cleaned up almost every humanly fluid and plenty that didn't seem human ."
—"I am continually amazed by what people will do when given a few square feet of privacy."
— "Why do you want to have sex in a bathroom? I think the toilet would be kind of a mood killer."
Additional posts describe drug use and other nefarious activities.
Avoiding 'knee-jerk' reaction
Nedra Papion, a Starbucks barista in Center City, said that a nearby franchise was robbed earlier and the manager was a female. Papion believes that the knee-jerk reaction of calling the Philadelphia Police Department may have been the result may of subconscious fear of the two African American males that were waiting for their friend, due to the recent robbery in the area.
In regards to refusing the use of the Starbuck restroom, a Philadelphia police sergeant was once told he could not use the restroom at the same Starbucks because he is not a paying customer. The officer asked twice, but was was denied the key code to access the restroom and the two got into a brief—but heated—verbal exchange. The same situation took place in Arizona with a pregnant woman and, according to Papion, they were both White. The pregnant female was told to use the restroom at an adjacent Fry's Electronics. She was also told to leave because police had been called.