Starbucks under fire for racially insensitive policies
Management, staff to undergo training May 29
William Covington OW Contributor | 4/19/2018, midnight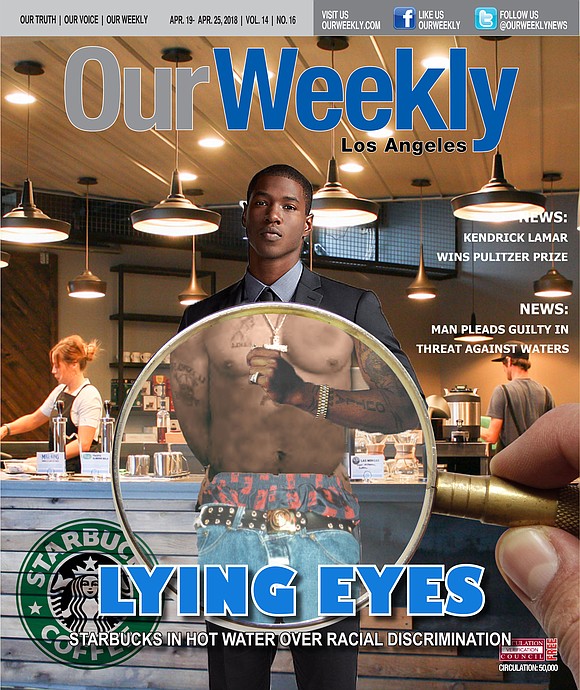 One week ago, two African American men were handcuffed and removed by police officers from a Center City Philadelphia Starbucks for what authorities claim was loitering.
The African American males were told by the manager that they needed to order something to be allowed to remain in Starbucks. Earlier this year a similar incident took place in a Torrance Starbucks. Again it involved an African American.
Starbucks CEO Kevin Johnson has vowed to close more than 8,000 Starbuck franchises on May 29 to allow staff members and store management participate in training programs that educate individuals on "unconscious bias."
Several professionals believe that unconscious bias is not the issue here. Rather, the issue they believe is an innate fear of the African American male which led to the incidents in Philadelphia and in Torrance.
Role of 'unconscious bias'
In "Black Child," a 1978 book by Phyllis Harrison-Ross M.D., she describes an interview with a pregnant White female, who one day while riding an elevator encountered an African American male. Being on the elevator with just the two of them reportedly resulted in the woman being so anxious that her uterus began to contract. Dr. Harrison-Ross said the tension from the fear the woman experienced would likely impact the unborn fetus who, years later, may later develop a fear of African Americans.
However, that was only a personal theory until recently when research conducted by Jacek Debiec, a Polish-born psychiatrist-neuroscientist with the University of Michigan, proved that there is clinical evidence that fear is transmitted across generations, although scientists know little about how the transmission occurs.
What is known is that it involves the lateral amygdala—an area that detects and plans response to threats. The amygdala is a small nugget of the brain nestled in the medial temporal lobe.
"A fetus is capable of detecting smell and taste and when a pregnant woman is scared the fetus will smell their mother's fear," according to the University of Michigan report. "Mothers teach babies their own fears by producing 'alarm' odors. If the pregnant female described by Harrison-Ross fears continue into infancy, there is a strong possibility that the infant will fear African American males. Infants can learn from their mothers about potential environmental threats before their sensory and motor development allows them a comprehensive exploration of their surrounding environment."
Debiec recalls working with the adult children of Holocaust survivors who experienced nightmares, avoidance instincts and flashbacks related to traumatic experiences they never had themselves. While they would have learned about the Holocaust from their parents, this deeply ingrained fear suggests something more at work, he said.
Fear of the 'Black male thug'
Dan Fessler, Ph.D., an anthropologist and head of the UCLA Center for Behavior, Evolution and Culture, believes irresponsible statements like this further paint a picture of the "Black male thug," and does more harm in creating a picture of negativity regarding African American males. He believes this type of rhetoric worked to the advantage of the defense team in the George Zimmerman murder trial.