Supreme Court ruling alarming for Black people, says civil rights lawyer
Carol Ozemhoya | OW Contributor | 4/13/2018, 9:49 a.m.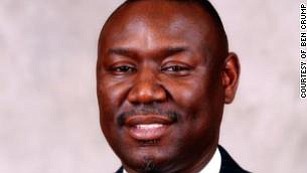 Benjamin Crump, a civil rights attorney and advocate (who represented the families of Trayvon Martin and Michael Brown), warns about the perils of being Black and mentally ill. According to his report for CNN, Crump says if you are mentally ill and Black, you already have two strikes against you in the eyes of law enforcement. Truth be told, one in four victims of a police shooting have signs of mental illness, and that's according to the Washington Post's police shooting database. Most recently, police shot and killed Saheed Vassel, a Black man who was known as someone with mental illness. He was shot in broad daylight on a Brooklyn street after callers reported a Black man threatening others, with some saying he had a gun, but all he was carrying was a can with some sort of small stringy attachment. Just days before that particular shooting, the current Supreme Court handed down a decision that stunned civil rights advocates… the decision endorses the current climate of our courts being unwilling to hold cops accountable for actions that have occurred with Black men such as Vassel, Brown and Eric Garner. The recent ruling dealt with an Arizona officer that shot a woman with a history of mental illness. However, at least two Supreme Court justices did not agree with the ruling. Justice Sonia Sotomayor wrote in a dissent that the court's recent decision was not only wrong but it tells law enforcement that officers "can shoot first and think later, and it tells the public that palpably unreasonable conduct will go unpunished." Sotomayor, who was joined in the dissent by Justice Ruth Bader Ginsburg, warned that the doctrine of limited immunity for police is being used as "an absolute shield for law enforcement officers." In the Arizona case, an officer shot victim Amy Hughes four times when she refused to drop a kitchen knife. The officer said he shot Hughes because he thought she posed a threat to her roommate. Later, the roommate said that Hughes had a history of mental illness and that she didn't feel concerned for her own safety. In fact, as the New York Times reported, Hughes "was not moving, spoke calmly, held the knife at her side and made no aggressive movements." Hughes, who survived and was not charged with any crime, filed a lawsuit against the officer for shooting her. As her case made its way through the courts, the US Court of Appeals for the Ninth Circuit ruled in favor of Hughes, overturning an earlier district court's summary judgment in favor of the officer. The Ninth Circuit Court of Appeals held that there were real questions of fact, such as whether Hughes had presented a real threat and whether the officer had given adequate warning before shooting. But the Supreme Court sided with the officer, shielding him from the lawsuit. The court said the officer believed Hughes was a threat to her roommate and had "mere seconds to assess the potential danger." The justices overturned the appeals court ruling. The Washington Post's ongoing tally of police-involved shootings shows that officers have killed 57 people known to suffer from mental illness so far this year. Of those, 31 (54 percent) were white and 11 (19 percent) were Black. Yet according to the U.S. census, whites make up 77 percent of the population, while Blacks only make up 13 percent. Attorney Crump says the color of one's skin and the state of one's psyche should not be compounding risk factors. And when police make mistakes based on those factors, our institutions of justice have a moral obligation to stand up for the diverse and vulnerable people who make up our country.