Byron Allen: Quiet media giant has purchased Weather Channel
Also riding high on 'Chappaquiddick'
Carol Ozemhoya OW Contributor | 4/12/2018, midnight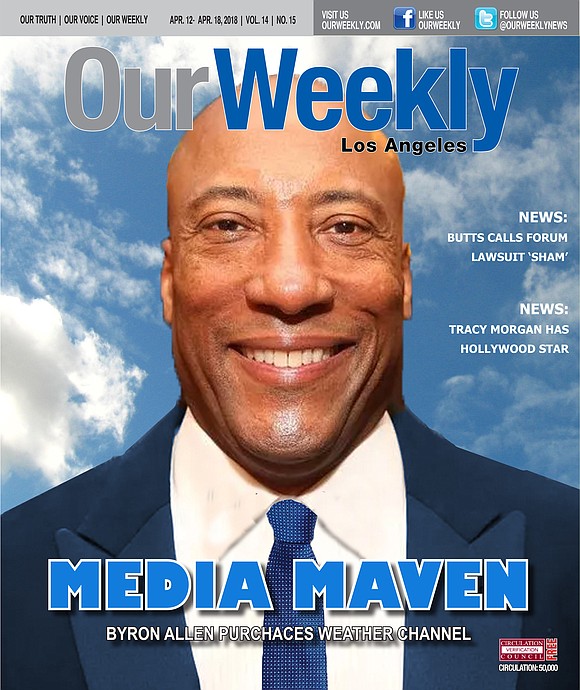 Actually, the deal with Comcast to buy TWC is odd at best, as Allen filed a $20 billion lawsuit in 2016 against the cable giant, charging that Comcast exercised racial discrimination when it failed to launch new networks with African American ownership as part of the deal when it bought NBC/Universal.
"My lawsuits were to start the process of: We need to have ownership. We need to control our image and how we're produced and depicted and seen around the world. So these lawsuits are revolutionary. What I said to Charter is, 'Shame on you. Your board of directors, 11 white guys. Every 90 days, you get together in a room and you look around and go, "This feels right." You don't even have a woman on your board, which represents 60 percent of the global population. No African Americans, no Asians, no Hispanics. Eleven white guys, every 90 days. Who's your crack dealer? It's just blatant racism and sexism, and I'm not going to leave this for my kids to deal with. Here, here's a $10 billion lawsuit.'"
That lawsuit is still pending, as is the similar one he brought against Comcast. Allen told the WSJ one of the two legal challenges will be settled soon, while the other one he intends to "take all the way." Allen, who still occasionally hosts or appears on his own shows, did not specify which one would be settled adding, "That depends on them."
Allen knows what he is doing, no doubt. He's definitely adept at using the tools available to him, whether they are monetary or legal, to force change in an industry that has been historically resistant to inclusion. In 2014, he went after AT&T and its DirecTV/U-Verse, and that was quickly settled within a year when he secured distribution for seven cable channels with the network.
Star recognizing star
Byron Allen, believe it or not, was groomed by a rising star in comedy, who saw something special in the teen when he was braving the L.A. comedy club scene, and that rising star was comedian and comic actor Jimmie Walker. The "Good Times" star, who also toured the country with his comedy act, hired Allen as a writer. During his stint as a writer, Allen found himself working with people who would eventually become late night talk show icons: Jay Leno and David Letterman. But Allen's dreams ran deeper. By 1993, he had his own show to host, "Entertainers," and that was the beginning of the building of what has become a media empire.
"Byron has an amazing story. A lot of people don't realize he started very young and worked at his craft, expanding his horizons along the way," says Dr. Farrah Gray, a multi-millionaire who also is a successful entrepreneur, as well as a motivational speaker with millions of followers on social media. "Young people, especially people of color, can look to him as an example of what hard work and perseverance can accomplish." Allen, though, warns that working predominantly in LaLa Land has its own special challenges. "Hollywood is a casino. You have to put your chips on the table and hope for the best. It's a big gamble. But I believe it's real simple. Number one: you need a good movie. Number two: you need a good release date. And then number three: you need to spend enough money to tell everybody you have a good movie." It's obvious that Allen has an eye for a good movie. Some of his recent acquisitions have gone on to become hits at the box office, including "47 Meters Down," "Hostiles" and "Chappaquiddick," which is in theaters now.