In retrospect: King assassination stirs controversy 50 years later
Remembering 'drum major for justice'
Gregg Reese OW Contributor | 4/6/2018, midnight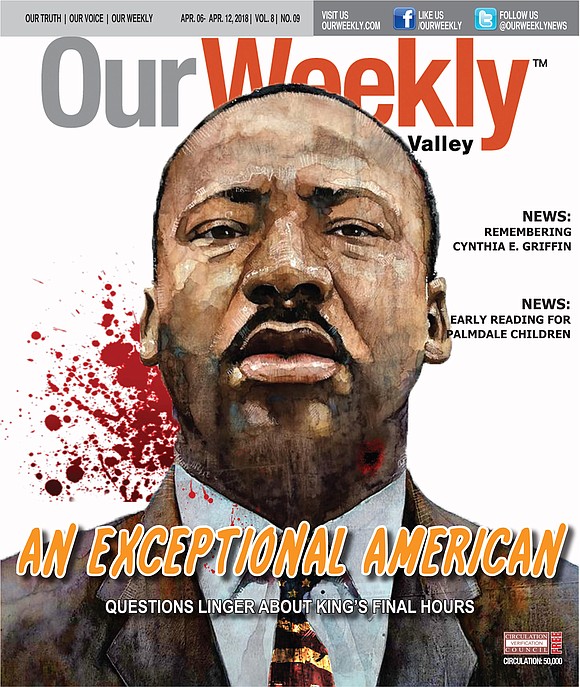 "We were deeply saddened by the death today of Mr. James Earl Ray. This is a tragedy, not only for Mr. Ray and his family, but also for the entire nation. America will never have the benefit of Mr. Ray's trial, which would have produced new revelations about the assassination of Martin Luther King."
—From a condolence statement
by Coretta Scott King, April 1998.
The widow of a murder victim extending a gesture of sympathy to the man responsible for her husband's death is an oddity. But then, the saga of James Earl Ray is no ordinary tale. A petty criminal whose specialty seems to have been a knack for getting caught in the wake of whatever misdeeds he committed, Ray was deemed responsible for single handedly ending the life of King, a major social transformer of modern history. Forgoing a trial by jury, he chose to avoid the death penalty by pleading guilty (which he recanted days later) and received a life sentence.
This tragedy, along with the assassinations of Medgar Evers, Malcolm X, John F. Kennedy and Robert F. Kennedy are intertwined in American history, symbolic of the growing pains of the country as it struggled with the acceptance of alternative ideas and lifestyles, and a clarification of the precepts the nation was founded upon.
Pay, benefits and workplace protection
"What does it profit a man to be able to eat at an integrated lunch counter if he doesn't have enough money to buy a hamburger?"
—Martin Luther King
In February 1968, two Black sanitation workers were crushed to death by a garbage trucker compactor. This and years of inhuman working conditions led to a strike, abetted by local ministers led by the Rev. James Lawson, a King ally. King, in the midst of planning a "Poor People's Campaign" later that summer in Washington, D.C., was summoned to Memphis briefly, to give a speech to rally the strikers.
King was transitioning from his earlier push for civil rights and desegregation to a quest for economic equality, reasoning that the key to a level playing field for Blacks was securing a respectable wage to provide a comfortable living. This lay at the center of both the Poor People's Campaign and the sanitation strike. The success of each, in his words would result in "…a determination by poor people of all colors and backgrounds to assert and win their right to a decent life."
Leaving town after his talk, he returned to Memphis on April 3 to lead a series of protest marches. Initially he was slated to stay on the ground floor of the Lorraine Motel, a landmark that hosted such luminaries as Nat King Cole, Isaac Hayes, and Otis Redding. Attorney and author William Pepper relates three separate accounts about how the reservation was changed from the more secure Room 202 on the ground floor to the more exposed Room 306 on the second floor.
In any event, a little before 6 p.m. on April 4, King stepped out of Room 306 on to the balcony preparing to go to dinner. There he was hit in the jaw and neck by a.30-06 rifle bullet, and was transported to St. Joseph's Hospital where he was pronounced dead at 7:05 P.M.