Hugh Hefner dies at age 91
City News Service | 9/28/2017, 1:27 p.m.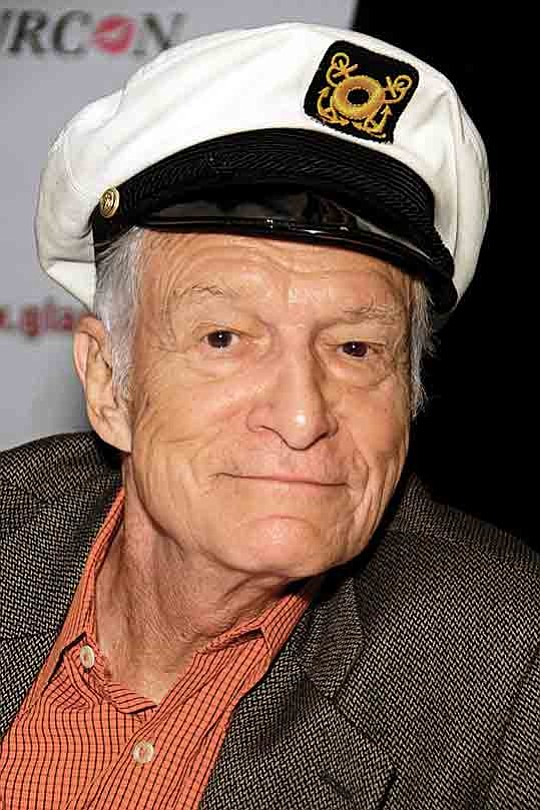 Hugh M. Hefner, who founded Playboy magazine in 1953
and built the company into an iconic brand, will be laid to rest at Westwood
Village Memorial Cemetery in a crypt beside Marilyn Monroe, it was reported
this morning, less than a day after his death from natural causes at 91.
"Spending eternity next to Marilyn is too sweet to pass up,'' Hefner
said in 2009 in an interview with the Los Angeles Times, which reported this
morning on the burial plans, although it was not immediately clear when the
funeral would take place.
Hefner died peacefully at his Holmby Hills home Wednesday, surrounded by
loved ones, according to Playboy Enterprises.
After serving in the Army, attending college and working for several
years in the magazine publishing industry, Hefner became convinced that there was a market for an upscale men's magazine.
He put up his furniture as collateral for a loan and borrowed the rest
from family and friends, Hefner published the first issue of Playboy in
December 1953, working from his kitchen table.
A big chunk of Hefner's meager budget for the first issue was consumed
by the pictorial: He paid a Chicago calendar maker $500 for photographs of
Marilyn Monroe with "nothing but the radio on,'' according to The Times. He
quickly sold out the complete run of 70,000 copies.
The magazine was an instant sensation and would become the world's
largest-selling and most influential men's magazine, spawning a number of
successful global businesses, including nightclubs.
The magazine is published in more than 20 nations around the world and
products featuring the company's trademarks drive more than $1 billion in sales annually, according to the company.
Although best known for its centerfolds of nude women, Playboy has also
published fiction by such writers as Ray Bradbury, Charles Beaumont, John
Updike, Ian Fleming, Joseph Heller, Gabriel Garcia Marquez, Margaret Atwood, author of "The Handmaid's Tale,'' Jack Kerouac and Kurt Vonnegut.
"Playboy Interview'' debuted in 1962 when frequent contributor Alex
Haley, best known for writing "Roots'' interviewed jazz legend Miles Davis.
Haley's Playboy interviews also included Malcolm X, the Rev. Martin Luther King, and George Lincoln Rockwell, the founder of the American Nazi Party.
Hefner hosted the 1959-61 syndicated talk show "Playboy's Penthouse,''
credited with being the first television program to feature mixed groups of
Black and White performers and audience members together.
Hefner triumphed in several efforts to block distribution of Playboy and
curtail the sexual freedom it championed. He won a case in the U.S. Supreme
Court over the U.S. Post Office's refusal to deliver Playboy to subscribers.
Hefner also battled the nation's sodomy laws, with his work being
recognized as influential by historians of the gay rights movement.
Hefner championed the reconstruction of the Hollywood sign in 1980. He
staged the annual Playboy Jazz Festival at the Hollywood Bowl since 1979.
Hefner's many honors include induction into the Hall of Fame of the
American Society of Magazine Editors, the Henry Johnson Fisher Award, the