Lancaster continues to lead the way in clean, green, energy
J.D. Williams | OW Assistant Editor | 9/22/2017, midnight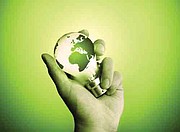 Lancaster Choice Energy is a locally run, not-for-profit power program created by the city of Lancaster. This clean and modern power provideris available exclusively to those who work and live within Lancaster. 
Lancaster has been at the forefront of creating a new sustainable approach to modern living. The city has been proactive in promoting solar power alternatives, conservation and smart energy consumption. 
With a lofty goal of becoming the nation's first Net-Zero city, Lancaster is determined to generate more clean energy than it consumes. With several private-sector partners, it has demonstrated how such a goal can be accomplished. The city has established new rules for building more efficient, sustainable structures. Along the way, Lancaster has earned global recognition. 
Just last week, the California State Senate passed a resolution recognizing Lancaster's many successful Alternative Energy and Climate Change initiatives. Senate Resolution 62, introduced by Senator Scott Wilk (R – Antelope Valley), was passed by a vote of 36-0 and designated the city as an Alternative Energy Research Center of Excellence for the state of California.
"It is with great honor and humility that we receive this prestigious designation," said Lancaster Mayor R. Rex Parris. "We look forward to continuing to implement many more innovative projects, in order to live up to the very high expectations which accompany such a designation."
Senate Resolution 62 highlights the city establishing itself as a global leader in implementing partnerships and initiatives, in order to mitigate the adverse effects of climate change; as well as for being recognized and honored regionally, nationally and internationally as an exemplary municipal leader in the field of alternative energy.
Lancaster has also been working closely with its local Antelope Valley Transit Authority (AVTA) in order to ensure North Los Angeles County will soon be home to the nation's first 100 percent electric bus fleet and recently the city's BYD plant delivered the first all-electric articulated bus to be added to AVTA's growing electric fleet. The bus has already carried hundreds of north county residents to and from work, school, and other destinations.
Lancaster Choice Energy (LCE) strives to bring energy decisions closer to home, by giving consumers a far greater say in how we approach power generation, energy conservation and sustainability. 
By investing locally to support the region's renewable resources and helping to create new good paying, local jobs, Lancaster Choice Energy is not only helping the environment, but the economy as well. 
With Lancaster Choice Energy's default program, Clear Choice, customers save on average 3 percent of their monthly energy bills with some enjoying as much as 15 percent savings over Southern California Edison's (SCE) current rates. Unlike SCE, LCE is solely in the business of power generation. As such, LCE searches for the best deals on both conventional and renewable energy sources and offers them exclusively to LCE customers.
"SCE will continue to read your meter, bill you, and process your payment. They will still respond to your requests and handle any power outages. Only the source and price of the electrons flowing to your home will change," says LCE.