Dick Gregory revisited next month at Annenberg Center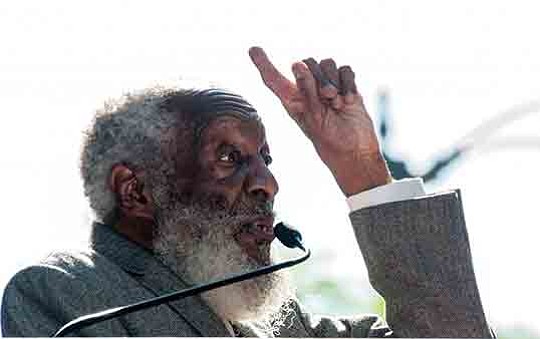 Wallis Annenberg Center for the Performing Arts will launch its 2017-18 season on Oct. 13 with a limited engagement of "Turn Me Loose" about the life and times of trailblazing comedian and civil rights activist Dick Gregory.
The west coast premier of the Broadway play was written by Grechen Law, produced by John Legend and Mike Jackson, and will be directed by John Gould Ruben. Starring Joe Morton from ABC's "Scandal," the play will include an original song by Legend and will also feature actor John Carlin.
The limited engagement will take place Thursdays through Sundays and will complete its run on Nov. 12.
"Turn Me Loose" explores the influential life of the famous comedian, who passed away last month at age 84, and was the first Black stand-up to make White audiences laugh at the absurdity of bigotry. The play reveals how the power of activism pushed Gregory from one of the most successful show business careers of the postwar era into a life of sacrifice and danger alongside Martin Luther King Jr., Medgar Evers and other civil rights leaders.
Wielding razor-sharp wit, Gregory hacked away at myths about race, poverty, war and politics, up until his passing. In a recent interview, former President Barack Obama called Gregory one of his two favorite comics ever. The other was Richard Pryor who himself said, "Dick Gregory was the greatest and he was the first."
A new generation of audiences may discover one of the most prophetic, committed, authentic and confrontational, and hysterically funny-public figures of our time. Gregory was one of the last living champions from a remarkable period of struggle for dignity and freedom, and his legacy and utterly unique brand of heroism lives on in Turn Me Loose.
"The Wallis is honored to both present this wonderful piece of theater and celebrate Mr. Gregory's legacy, making sure that as many people as possible will be made aware of his life, his achievements, his involvement in the civil rights movement, his beliefs in social justice, and his comedy that revealed wisdom and truth," said Paul Crewes, The Wallis' artistic director.
"Dick Gregory used every syllable, every metaphor, every joke, every march, every incarceration, every hour of his life, to embarrass this country into providing a more perfect union," said Morton. "Dick Gregory will be greatly missed. Humbly, and in his stead, 'Turn Me Loose' carries on to be his voice and his inspiration for all who wish to laugh at the absurdity of racism, and be enlightened by his spirit of justice."
"When Dick Gregory left this life on August 19, national obituaries and television commentators across the country extolled his legacy, especially his decades-long devotion to social justice," said the producing team of Turn Me Loose. "That morning, in the hospital room in which he died, a hospital orderly took it upon himself to alter the caregivers' white board. Under the heading 'What I would like you to know about me,' he wrote a profound but simple and perfectly accurate testament: