Susan Burton highlights the path out of modern slavery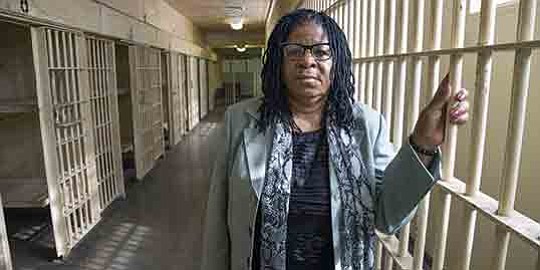 "I've always been living under a threat."
—Susan Burton on her turbulent life in South Los Angeles.
In spite of all the negativity surrounding the issue of criminalization and the corresponding response of callous punishment by law enforcement, the constant in the make-up of citizens behind bars is the overrepresentation of ethnic minorities, which is why the story of Susan Burton is so important.
Burton's entry into the penal system seems almost pre-ordained thanks to a dysfunctional family environment, a cycle of sexual molestation, and indifferent educational and social services apparatus. By the time she'd reached middle age, Burton, like many in the system, had been indoctrinated into a cookie-cutter assembly line of arrest, incarceration, and re-offense. But one fateful day as she was about to be let out for yet another brief excursion into the free world, a guard's casual remark that she'd be returning to prison soon struck a chord within her psyche.
In due course, her luck changed through the kindness of a friend and steady employment, entry into a drug treatment program she successfully completed, and a new-found resolve to help others escape the merry-go-round of despair she had endured. This turnaround would soon set her on the course to redemption.
Today, she presides over a non-profit housing and support organization for women seeking to re-enter the community after incarceration as productive citizens. Doing business as "A New Way of Life Reentry Program," the organization operates five homes, which have transformed the lives of some 1,000 alumnae of her program, and facilitated 300 women in their efforts to be reunited with their children.
Seeking to extend her advocacy further, Burton initiated a film festival dedicated exclusively to the issue of inequalities in the legal system. Established with the assistance of civil rights advocate and legal scholar Michelle Alexander (who has dubbed Burton the "21st century Harriett Tubman"), the fifth annual "Justice on Trial Film Festival" will take place at Loyola Marymount University in Los Angeles' Westchester neighborhood.
The festival opens with a red carpet reception tomorrow at 5 p.m. Among the celebrities slated to attend are actors Vivica A. Fox, Omar Gooding, Jimmy Jean-Louis, and Paula Jai Parker. Admission is free.
This year's theme will be "Exposing Injustice ... Exploring Solutions," with some 17 films screening, including TV One's true life inspired feature "When Love Kills."
Appearing at the festival will be prison reformer Shaka Senghor, author of New York Times bestseller "Writing My Wrongs," a memoir of his personal journey of incarnation and rehabilitation as a casualty of the "War on Drugs." He will take part in a panel discussion on social justice and second chances with A New Way of Life associate director Tiffany Johnson, and Benjamin Crump, attorney for the families of Trayvon Martin, Michael Brown and others killed in the ongoing friction between minorities and law enforcement.

Burton will also be a keynote speaker at the festival on Sept. 17, at 3 p.m., and will have a book signing for her autobiography "Becoming Ms. Burton," at 5 p.m. that day.