Showdown in 'The Land of the Morning Calm'
The face off between Donald Trump and Kim Jong Un is merely the latest chapter in the saga of a divided Korea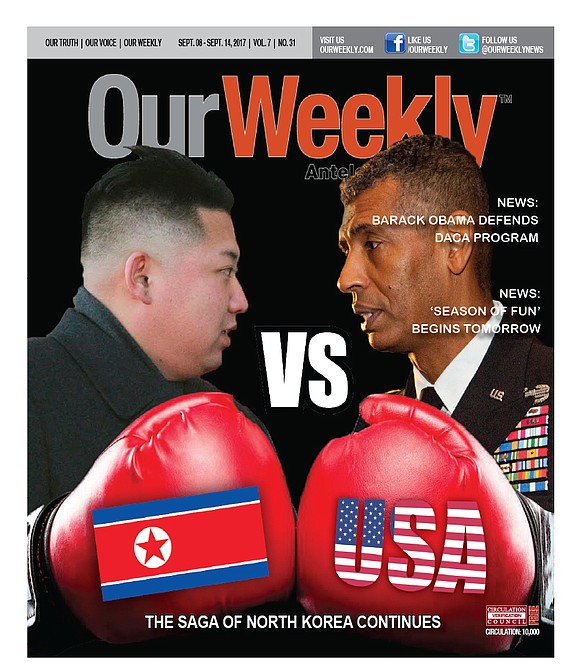 All Black-Korean relationships during the American presence in that country have been negative. Currently, the commander of the 28,000 airmen, Marines sailors and soldiers comprising United States Forces Korea (USFK) is African American General Vincent K. Brooks. The scion of a military family, his father and older brother are retired generals, and he has been at his current posting since April of 2016, when he was nominated by then-President Barack Obama.
Among his numerous accolades are becoming the first Black valedictorian of a graduating class at his alma mater, West Point (class of 1980). A central component of the army's strategic planning throughout the globe, he handled public affairs for the Pentagon, was spokesman at U.S. Central Command during Operation Iraqi Freedom, has served as Deputy Director for the War on Terrorism, and was past commander of the famed "Big Red One," the 1st Infantry Division, among other assignments.

Brooks became familiar to the American public during the six week war in Iraq, circa 2003, as he briefed the media about the progress of the conflict. There, he stood out according to CNN, because he "…represent(s) the changing face of the American military."

"It's very clear in what direction Kim Jong-un is heading and that is to have a full arsenal of capability that can hold the United States at risk for deterrence purposes, but also for coercive diplomacy," he said in a recent interview.
In spite of all the hardware for destruction at Gen. Brooks' disposal, no more nuclear weapons are in the country. President George H.W. Bush removed all such devices from bases overseas (aside from Europe) in 1991. Presumably removing this ordinance from forward locations means the majority of "nukes" are in the continental United States (not including the hundreds of warheads arming the tips of missiles on submarines patrolling the oceans).