BLVD to host 'Season of Fun'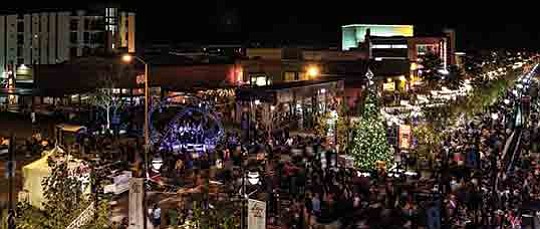 The city of Lancaster has announced the lineup for its annual "Season of Fun" with a preview of the many special events to be hosted on The BLVD this month through December.
The family-friendly experiences feature entertainment, activities, and fun for residents and visitors of all ages. Upcoming events include: Celebrate America on The BLVD tomorrow; Streets of Lancaster Grand Prix (Sept. 29 - Oct. 1); BooLVD Halloween & Harvest Festival (Oct. 28); and Magical BLVD Christmas (Dec. 9).
"When we first launched these annual BLVD events, our intent was to create community gathering places in order to draw people to Lancaster's downtown and stimulate the local economy. We have definitely accomplished this; last year alone these four BLVD events drew an estimated 100,000 attendees," said Lancaster Mayor R. Rex Parris. "More importantly, all of these annual BLVD events provide a perfect place to bring your family, gather with friends, and meet your neighbors. Such experiences help all of us truly engage with others in our community and create a shared pride in our city. As such, these special events play a unique role in improving our region's overall quality of life."
The first event of the season is the eighth annual Celebrate America on The BLVD, which takes place tomorrow. A patriotic party in honor of our nation's troops, the event will feature live musical entertainment, an All-American classic car show, a pie-eating contest, fireworks, and a wide variety of activities for all ages. The BLVD will come alive at 5 p.m. with the main festivities of Celebrate America. The BeX Beer Garden will be located at Ehrlich Avenue. The Lockheed Martin Stage, located at Date Avenue, will feature Rat Pack Ricky and Just Us.
There will also be plenty of other entertainment and fun throughout the event. At 6:30 p.m., the BeX Bandstand will host the event's special opening ceremonies, where active and former military personnel will be recognized. In addition, a video presentation highlighting all of Lancaster's Hometown Heroes from the past three years will be displayed throughout the event. "Moving tributes" to Vietnam, Iwo Jima, 9/11, and the Korean War will make historic moments come to life throughout downtown, as actors re-enact iconic monuments and photographs from America's history. Closing out the evening will once again will be a spectacular fireworks show. For additional information, visit:www.cityoflancasterca.org/celebrateamerica.
Just a few weeks after Celebrate America, the ninth annual Streets of Lancaster Grand Prix will hit The BLVD. The fastest street race in the nation, this three-day action-packed event will take place Sept. 29 - Oct. 1. Hosted in partnership with SuperKarts! USA's professional event management team, the event features professional go-kart racers from throughout the nation—showcasing their karting skills at adrenaline-pumping speeds of up to 100 miles per hour.
In addition to the high-energy kart races, the Streets of Lancaster Grand Prix will host an accompanying street party on Sept. 29 and 30 from 6 to 11 p.m. The street festival will unleash loads of live entertainment and activities. More information, including race schedules, will be posted on the event's website as the racing nears. Visit www.streetsoflancaster.com.