Across Black America Week of Sept. 7, 2017.
Carol Ozemhoya | OW Contributor | 9/7/2017, midnight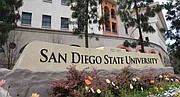 California
San Diego State University plans to offer a course called Black Minds Matter: A Focus on Black Boys and Men in Education, that was inspired in part by the Black Lives Matter movement, according to the Associated Press. The weekly course will be open to the public for enrollment in October and will feature various speakers who will talk about how Black men are undervalued in the classroom. The professor who helped create the online course says it will connect themes from the Black Lives Matter movement to issues facing Blacks in educational settings. The upcoming course has drawn criticism. However, a number of U.S. colleges, including New York University, University of Washington and the University of Miami, now offer courses that include discussion of the Black Lives Matter movement.
Florida
In 2012, a Port Richey couple found a cross burning in their yard. It was one night, Halloween, but the effects of the hate crime on the couple lasted much longer, reports the Tampa Bay Times. Two of the men responsible were sentenced Aug. 29 in federal court, where they heard words of the lasting pain and fear that they caused their victims: a Black boyfriend and White girlfriend living in the neighborhood. U.S. District Judge Mary Scriven sentenced Thomas Herris Sigler III to 33 months in prison and William A. Dennis to 21 months, each with three years of supervision after release. The victims - identified just by their initials - were not in court. Prosecutors said reliving the night is too much for D.M., the man, to bear. His girlfriend, however, put her experience into words. In a victim impact statement read aloud by the judge, K.L. said the crime changed both of their lives forever, in ways she presumed the felons could not imagine. "It felt like we had our very own, personal group of terrorists," she wrote.
Georgia
Georgia's Republican state Rep. Jason Spencer told his former colleague on Aug. 29 that she and others supporting the removal of state-sponsored Confederate monuments and landmarks could "go missing," reports the Huffington Post. Attorney and former state Democratic Rep. LaDawn Jones, who says she regularly debated with Spencer in person and online, was shocked by the menacing comments she received. The exchange began on a Facebook post, when Spencer posted a picture of the Jefferson Davis memorial. Jones had criticized Spencer's support for Confederate monuments, arguing that the objects shouldn't be supported by state tax dollars. The former representative says that tense discussions about race weren't uncommon between the two and that she appreciated the dialogue. "We educated each other," the Atlanta-based attorney told HuffPost. But Spencer's comments took a disturbing turn, Jones says, especially when he suggested that harm might come to those who attempt to remove or question the monuments in southern Georgia. "Continue your quixotic journey into South Georgia and it will not be pleasant," he wrote. "The truth. Not a warning. Those folks won't put up with it like they do in Atlanta. It best you move on." "I can guarantee you won't be met with torches but something a lot more definitive," he wrote. "They will go missing in the Okefenokee [swamp]," he continued. "Too many necks they are red around here. Don't say I didn't warn you about 'em." Jones told the Atlanta Journal-Constitution that she was concerned by Spencer's comments, but didn't fear for her life. "If it were anybody other than Jason Spencer, then I would be alarmed. But we had a unique relationship in the Georgia legislature," Jones said. "If that had come from anybody else, I'd take it as a serious threat. Because if that's representative of what people in south Georgia think, then yikes," she added.