Power up with plant protein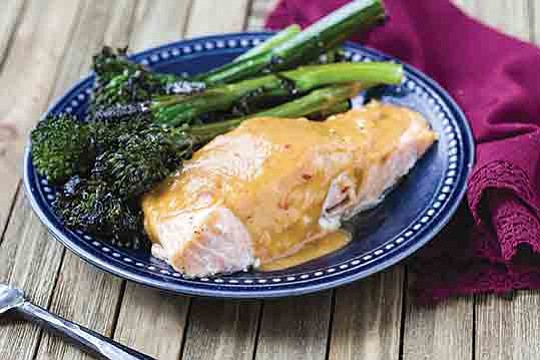 In small saucepot over medium-low heat, whisk together peanut butter, chili garlic sauce and orange juice, and cook until warm.
To serve, pour peanut butter glaze over salmon.
Nutritional information per serving: 334 calories, 23 g total fat, 5 g saturated fat, 50 mg cholesterol, 173 mg sodium, 5 g carbohydrates, 1 g fiber, 3 g sugar, 27 g protein, 8% vitamin C, 4% calcium, 3% iron.
Vegetarian Nourish Bowl
Servings: 4
1 cup large, diced butternut squash
16 ounces Brussels sprouts, halved
1 medium red onion, large diced
1/2 can (8 ounces) reduced-sodium garbanzo beans, rinsed and drained
1 head garlic (about 10 cloves), peeled
1 tablespoon olive oil
freshly ground pepper, to taste
1 lemon, juiced
2 tablespoons water
1 teaspoon Sriracha sauce
1/4 cup peanut butter
1 cup cooked quinoa
1 tablespoon finely chopped peanuts
Heat oven to 400 F and line rimmed baking sheet with parchment paper. On prepared baking sheet, arrange butternut squash, Brussels sprouts, onion, garbanzo beans and garlic; toss vegetables in olive oil and season with pepper, to taste.
Roast 30-40 minutes until slightly golden in color. Halfway through baking, shake vegetables or turn over to ensure even browning.
To make dressing: Mix together lemon juice, water, Sriracha sauce and peanut butter.
To serve, top quinoa with roasted veggies, crushed peanuts and drizzle of lemon-peanut butter sauce.
Nutritional information per serving: 323 calories, 14 g total fat, 2 g saturated fat, 308 mg sodium, 42 g carbohydrates, 11 g fiber, 5 g sugar, 13 g protein, 92% vitamin A, 197% vitamin C, 11% calcium, 28% iron.