Dodgers return to World Series
Game three tonight in Houston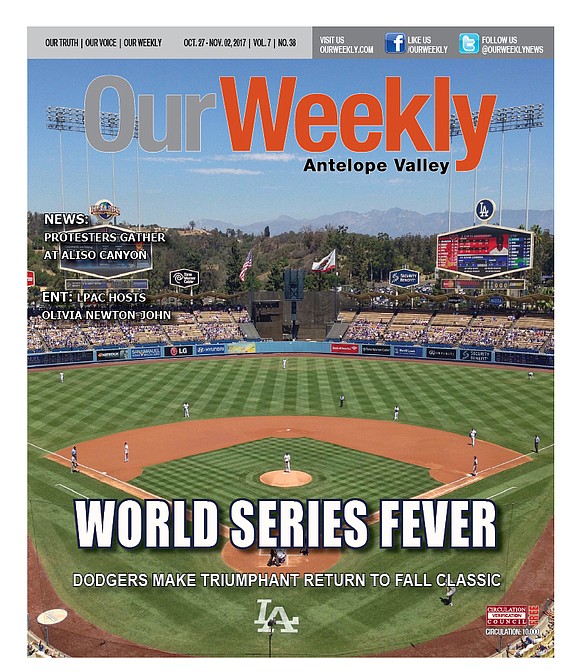 Since 1998, the Dodgers have had an assortment of owners, managers, front-office executives and players. Dodgers owner Peter O'Malley sold the team that year to Rupert Murdoch's News Corp. (owner of 20th Century Fox). From 1989 through 2007, however, the Dodgers made only four postseason appearances and never advanced past the first round of the playoffs. Things began to change in 2008 under the ownership of Frank and Jamie McCourt who hired Joe Torre as manager and brought in slugger Manny Ramirez and clutch-hitting infielder Nomar Garciaparra. Also, at the start of the 2008 season, the Dodgers called up their top prospect Clayton Kershaw.
That year, the team defeated the Chicago Cubs in the first round of the playoffs, but fell to the Philadelphia Phillies in the National League Championship Series (NLCS). A similar fate took place in 2009 as the Dodgers again faced the Phillies in the NLCS, only to fall in five games.
One month prior to opening day in 2012, the Dodgers were sold to Guggenheim Baseball Management LLC, a group of investors fronted by Guggenheim CEO Mark Walter and including Earvin "Magic" Johnson, baseball executive Stan Kasten and film mogul Peter Guber. The sale exceeded a record $2 billion, although Forbes magazine would later place the value of the Dodgers franchise about $1.4 billion.
This season under second-year manager Dave Roberts, the Dodgers enjoyed the most wins since arriving in Los Angeles, racing off to a 91-36 streak by August en route to a Major League best 104-58 record. A late season slump, in which the team lost 20 of 25 games (highlighted by 11 consecutive losses), led to questions among some fans about whether the team would succeed in the post season.
Despite the slump, the Dodgers recovered to win eight of their final 10 games to capture a fifth straight National League West championship and home field advantage throughout the playoffs. They swept the Arizona Diamondbacks in the National League Division Series and defeated the defending champion Chicago Cubs in five games to advance to the World Series.
A talented core of young players and experienced veterans including Cody Bellinger, Yasiel Puig, Cory Seager, Kenley Jansen, Justin Turner, Chase Utley and Andre Ethier have provided the Dodgers with their best opportunity in decades to bring the championship home to the City of Angels.