Dodgers crush Cubs to win pennant
10/20/2017, 11:29 a.m.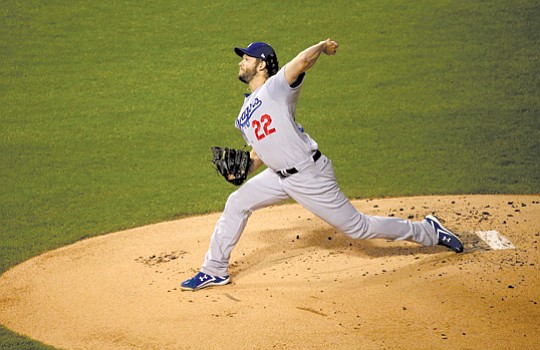 The Los Angeles Dodgers could learn today who they'll face in the World Series after they won their first National League pennant since 1988 with an 11-1 victory over the Chicago Cubs at Wrigley Field.
The Dodgers will open the World Series Tuesday at Dodger Stadium, facing either the New York Yankees or Houston Astros.
Game 6 of the American League Championship Series is set for today in Houston with the Yankees leading the best-of-seven series three games to two.
Manager Dave Roberts said Clayton Kershaw will pitch for the Dodgers in the first World Series game at Dodger Stadium since Oct. 16, 1988 when Orel Hershiser, now a Dodger broadcaster, pitched a three-hit shutout in a 6-0 victory over the Oakland Athletics.
"We've heard 1988 for so long in L.A., it feels good to say that we're getting to go to the World Series in 2017," said Kershaw, who has been with the Dodgers since 2008.
"When you're a kid, you just hope you make it to the big leagues so to get to go say you're going to go play in the World Series, it's an incredibly special moment. Up there with getting married and having kids, it's right up there with one of the best days of my life."
Starting shortstop Corey Seager, who was left off the 25-player roster for the National League Championship Series because of a back injury, is expected to return for Game 1 of the World Series, Roberts said.
Kike Hernandez hit three home runs, including a third-inning grand slam, Thursday as the Dodgers won the National League Championship Series four games to one, ending the longest pennant drought in franchise history.
"All year long it's been a collection of guys, and certain guys stepping up." Roberts said. "Every single night it's somebody else. Tonight was his night to shine."
This was the 11th time a player hit three home runs in a postseason game. Hernandez was the fourth Dodger to hit a grand slam in a postseason game, joining Dusty Baker and Ron Cey (both 1977) and James Loney (2008), according to ESPN Stats & Info.
Cody Bellinger and Charlie Culberson also both had three hits as part of the Dodgers 16-hit attack.
Chris Taylor and Justin Turner were selected as the co-MVPs of the series.
Kershaw limited the Cubs to three hits over six innings and struck out five for his sixth postseason victory, tying Burt Hooton for the team record.
Chicago was held to one hit over the final three innings by three Dodger relievers.
Hernandez drove in seven runs with a solo homer in the second and a two- run homer in the ninth in addition to the grand slam during the five-run third.
The Dodgers, who never trailed, opening the scoring in the first when Bellinger doubled in Taylor, who walked.
Turner singled in Taylor, who doubled leading off the third.
Logan Forsythe doubled in Bellinger, who singled, and Yasiel Puig, who reached first on a fielder's choice, in the fourth.