Post Traumatic Stress Disorder identified among Black youth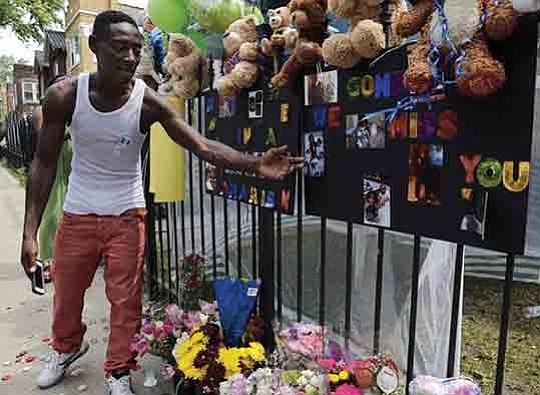 Chicago is one of many large American cities where gun homicides spiked last year. The victims were disproportionately young, male and Black.
In a study on Chicago's Cook County Hospital - which tends to thousands of gunshot victims each year - more than 4 in 10 patients screened showed symptoms of PTSD, with an even higher rate among those wounded by guns.
A survey by the Family-Informed Trauma Treatment Center (FITT) of inner-city youth - who are disproportionately Black and Latino - reveals that more than 80 percent have experienced "one or more traumatic events." And their struggles tend to deepen over time because of a lack of accessible culturally appropriate mental health treatment.
Sebastian Henagulph, forensic psychiatrist at the Mid-Atlantic Wellness Institute and Westgate Correctional Facility, cited British research that reported gang membership can lead to mental illness.
"It's a two-way thing. A lot of people who end up in prison have antisocial personality disorder or other personality disorders," Henagulph said. "Usually 5 to 10 per cent of the population has a personality disorder, but if you go into a prison, you'll find 60 to 80 per cent with a personality disorder."
One study found that nearly 90 percent of gang members had antisocial personality disorder, compared with 30 percent of violent men with no gang affiliations and only 10 per cent of non-violent men.
"Some people get involved in these gangs because of the general stressful environments they're in," Henagulph said.
He added that the racial divide played a part in gangs, with the majority made up of young Black men.
"It tends to be people on the margins of society. The disenfranchised don't have money and don't see hope in their lives, and drift into the gang lifestyle. Historically, the Black population has been at the lower end of the socioeconomic spectrum.
"Generally, most of us deal with stress in a healthy way whereas other people might not have these same coping skills and resort to drugs and alcohol, blaming other people and fighting other people."
Henagulph added that in addition to poor mental health contributing to gang affiliation, membership could contribute to deterioration in mental condition.
"Some of the people in gangs, because of the violence they're committing and the stressful environments they're in, are paranoid all the time because someone is actually probably coming to get them," he explained. "Just being in the gang gives you anxiety, depression, post-traumatic stress disorder and high rates of suicide."
The chaos that seems to haunt so many urban neighborhoods does not start with the pulling of a trigger. It represents the fallout of decades of underinvestment in neighborhoods where schools, health care and social services are chronically deprived - the brutality of the everyday, with no bullets, just innocent targets.